US Director of National Intelligence Dan Coats told reporters Tuesday he will speak with European partners during this week's NATO summit in Brussels to discuss alleged Russian violations of the 1987 Intermediate-Range Nuclear Forces Treaty (INF), the Washington Free Beacon reported.
READ MORE: US Using Misleading Info on INF Talks With Russia to Justify Withdrawal — Moscow
The Trump administration announced plans to withdraw from the INF in October, however, they didn't establish a date to formally exit the deal, Coats told the reporters.
"We are still pursuing this issue relative to working with our allies, particularly Europeans," he said.
The INF bans both the United States and Russia from the possession of ground-based ballistic missiles with a range of 500 to 5,000 kilometres (300 to 3,400 miles). The US has accused Russia of violating the treaty.
"The intelligence community assess Russia has flight-tested, produced and deployed cruise missiles with a range capability prohibited by the treaty. Russia has shown no sign that it is willing to acknowledge its violation, let alone return to full and verifiable compliance," Coats said.
Coats accused Russia of "covert development" of an intermediate-range, ground-launched cruise missile called the 9M729, which the US has said exceeds the range allowed by the INF. Russia has denied all such allegations, stressing that it is in strict compliance with the obligations outlined in the treaty.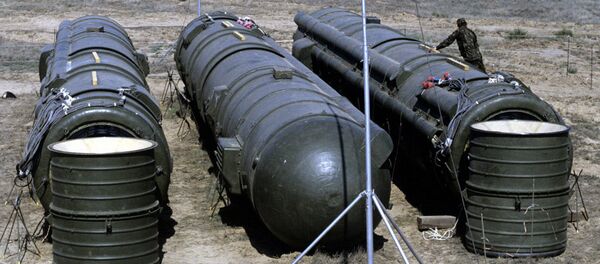 20 November 2018, 08:44 GMT
However, Coats pointed out that there remains a small chance the US could stay in the agreement if Russia admits it has violated the treaty and destroys the missiles in question — a possibility which is according Coats "doesn't look all that promising."
US allies, including the European Union, have opposed US President Donald Trump's decision to leave the treaty, warning that the move could reignite the nuclear arms race that ended with the close of the Cold War. 
Coats objected to those concerns. "If you've agreed on a treaty, and it has been successful in destroying a number of missiles … but then you find out your partner is cheating, and they want to keep the status quo of their cheating going forward and keep their advantage strategically in place while we are adhering to the treaty, that doesn't spell well for this treaty going forward," he said.
The INF was signed in 1987 by then-leader of the Soviet Union Mikhail Gorbachev and then-US President Ronald Reagan, who agreed to destroy all cruise or ground-launched ballistic missiles, putting the end to the Cold War-era arms race.