Wikileaks publisher Julian Assange is threatening to sue The Guardian over a 'fabricated' report that the WikiLeaks founder allegedly met with President Donald Trump's then campaign manager Paul Manafort in the Ecuadorian Embassy three times, Press Gazette wrote.
In a statement issued to US media on Monday, Paul Manafort joined Wikileaks in threatening to take the newspaper to court over the story.
'This story is totally false and deliberately libellous. I have never met Julian Assange or anyone connected to him. I have never been contacted by anyone connected to Wikileaks, either directly or indirectly', he said.
The article that appeared in Tuesday's issue of The Guardian claimed that Manafort visited Assange in the Ecuadorian mission in 2013, 2015 and the spring of 2016 when Manafort joined Trump's campaign.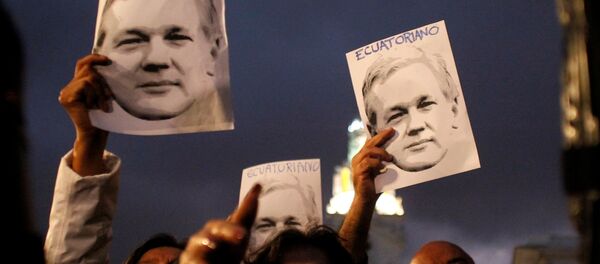 28 November 2018, 06:50 GMT
According the newspaper, months after Manafort's last visit the non-profit website released a raft of Democratic Party emails allegedly stolen by 'Russian spies'.
In an interview with Press Gazette, a Guardian spokesman stood by the story insisting that it 'relied on a number of sources'.
'We put these allegations to both Paul Manafort and Julian Assange's representatives prior to publication. Neither responded to deny the visits taking place', the spokesman said.
In a tweet, Wikileaks said it was willing to bet The Guardian a million dollars and its editor's head that Manafort never met Assange.
WikiLeaks has launched a crowdfunding campaign and has already raised over $28,000 to cover legal expenses.
In the US, Senator Bob Menendez said that 'if true' the revelation of the meetings would raise 'serious new questions' about Manafort's relationship with Wikileaks.
Paul Manafort is currently serving a jail term after pleading guilty to conspiring to defraud the US and conspiring to obstruct justice as part of an ongoing investigation into Russia's alleged meddling in the 2016 US presidential election.
READ MORE: Giuliani Says Trump Doesn't Know if Manafort Met With Assange — Reports
Julian Assange asked for asylum in the Ecuadorian Embassy in London in 2012 after Britain requested his extradition to Sweden over allegations of sexual offences.
Sweden dropped its investigation in May 2017, but Assange fears he will be extradited to the United States to face prosecution over WikiLeaks' publication of leaked US military and diplomatic documents.