Banks will relocate to German finance hub Frankfurt no later than March 2019, lobbying group Frankfurt Main Finance said in a press release on Thursday.   Around 30 banks and financial firms have confirmed their preference for the European business hub, with other banking titans such as JP Morgan, Morgan Stanley and Goldman Sachs spreading operations across other European cities as Paris and Dublin.  UK banks such as Credit Suisse, Standard Chartered, Lloyds, Citigroup and Nomura also plan to relocate and expand their presence in Frankfurt after Brexit.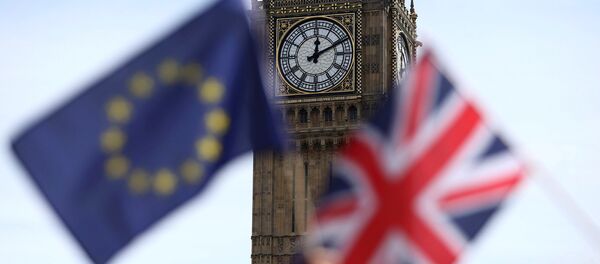 29 November 2018, 05:00 GMT
Companies are rushing to manoeuvre the bureaucratic hurdles of a British withdrawal from the EU after UK Prime Minister Theresa May revealed her Brexit draft plan in November, with fears that billions in assets will flee to Germany.  
Multinationals will struggle with lost passporting rights that allow businesses to tend to EU clients if a no-deal Brexit fails to negotiate financial services. 
READ MORE: Theresa May's Brexit Deal May Cost UK Economy '£100bn' by 2030, Says New Report PM May's Brexit draft plan will still face the ire of Commons, where many MPs could vote down the plan for parliamentary approval.   The draft plan includes a transition period until December 2020 to extend access for banks between the UK and EU, forcing companies to shift assets and employees to prepare contingencies for a no-deal Brexit. 
City minister John Glen said last month that the Bank of England estimates that Britain could lose around 5,000 City jobs up to 29 March 2019. But Frankfurt Main Finance believes the numbers are much higher. "We stand by the potential of up to 10,000 jobs moving to Frankfurt which we estimated on day 1 after the Brexit referendum," Mr. Väth said.