On November 28, the newly launched cable car stopped operating due to the cyber attack. Law enforcement is considering whether to open a criminal investigation into the case.
'A representative from the operating company "Moscow Cable Cars" said to the police that the main computer received a message from an unknown user. The message said that all of the electronic files on the computer, which is used for operating the cable car, are being encrypted, and that for their decryption they would have to send bitcoins to the letter's author', the source said.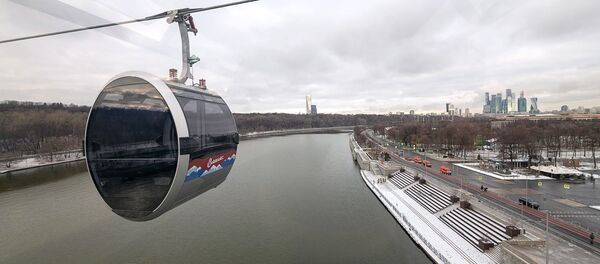 28 November 2018, 17:14 GMT
The letter said that the amount depends on the 'quickness of reply'. The cable car soon stopped moving, 'apparently, bitcoins were not transferred by the company', the source noted.
The cable car is still not running. According to the operating company's website, the cable car's operating system will be tested during the day today. Resumption of the operations will be announced accordingly.
Earlier the aerial line's press office issues a statement, according to which 'the server network running the Moscow Cable Car came under a cyber attack at 2 p.m. [11:00 GMT] today. After it was detected, employees stopped the line and evacuated passengers at disembarkation points'.
The line connects the historic Sparrow Hills on the right bank of the Moskva River with the national stadium, Luzhniki, on the left bank.
🚠The first-ever cable car line was launched in @Moscow. It extends over the Moskva River & links the observation deck near @MSU_1755 on the Sparrow Hills & #Luzhniki stadium. Up to 1,600 people will be able to travel a 700-meter distance every hour inside eight-person cabins! pic.twitter.com/XWdrfJGtha

— РоссиЯ 🇷🇺 (@Russia) 27 ноября 2018 г.