Migrants from the caravan staying in Tijuana, Mexico and awaiting entry into the US are suffering from all kinds of illnesses, ranging from ordinary respiratory infections, to dangerous diseases such as tuberculosis and HIV/AIDS, the city's health department reported on 29 November.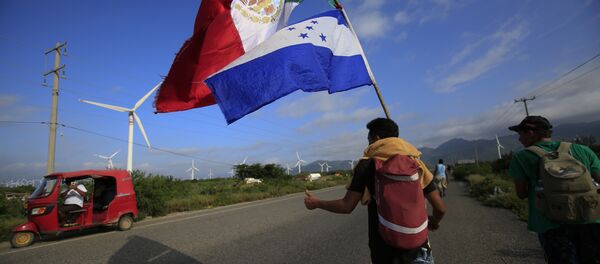 25 November 2018, 16:26 GMT
Approximately 1/3 of the 6,000 people in the caravan have health issues. 101 individuals are suffering from lice and skin infections, according to department's data. Officials warn that due to the poor sanitary conditions in the migrant camp, Hepatitis is also possible.
The city is so far assisting the migrants, but with around $30,000 in expenditures per day, Tijuana won't be able to do so for much longer.
'We won't compromise the resources of the residents of Tijuana. We won't raise taxes tomorrow to pay for today's problem', Tijuana Mayor Juan Manuel Gastelum told Fox News.
The migrant caravan, consisting of thousands of people from Central America, ventured through Mexico towards the US in the hope of better lives. They were forced to stop at the American border, which has been heavily reinforced following directives from US President Donald Trump, who has labelled the caravan an 'invasion'.
READ MORE: More Conflicts With Migrants and Shutdown are Expected Over US Southern Border
Some of the migrants attempted to force their way into the US, resulting in clashes with Border Patrol agents on 25 November, with the latter using tear gas to dispense the stone-throwing mob. Mexico vowed to investigate the incident and to deport those involved. So far, 98 migrants have been deported due to the border clashes.