'Talks have been conducted, via telephone, for several weeks, and are coming to a head shortly before President [Donald] Trump and Chinese President Xi Jinping meet for dinner Saturday at the end of the Group of 20 leader's summit in Buenos Aires', the Wall Street Journal reported. 'But it is far from clear whether the discussions will produce any agreement'.
READ MORE: US to Explore Imposing Higher Tariffs on Chinese-Produced Cars
Follow up talks would focus on trade architecture, a broad term used by both nations that could include issues that Washington has been pressing Beijing to address, including intellectual property protection, coerced technology transfer, subsidies to state-owned enterprises, and even non-trade issues such as cyber-espionage, the report said.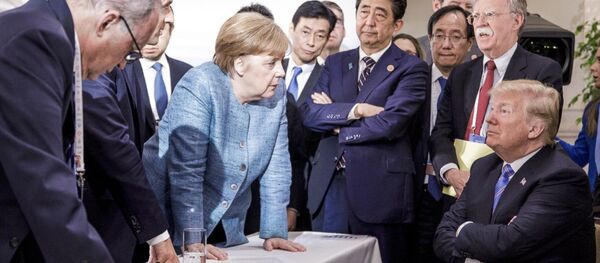 29 November 2018, 14:42 GMT
One offer, Chinese officials were quoted in the report, would suspend US tariffs and Beijing would lift restrictions on China's purchases of US farm and energy products.
US officials reportedly said such a deal would resemble partial agreements the United States has cut in recent months with the European Union and Japan on automobiles. In each case, the US agreed not to levy more auto tariffs while the two sides negotiated over specific issues, the report said.
READ MORE: Trump: 'There is Long Way to Go' on China Tariffs
As the publication noted, officials in China have already begun to plan for follow-up negotiations in case there is a G-20 deal. Besides, the report said that a Chinese trade delegation could travel to Washington, DC in mid-December.
However, the media outlet noted that a decision was unlikely until Trump and Xi meet.