US President Donald Trump has rejected the recent confession by his former attorney Michael Cohen.
'He is a weak person. And what he is trying to do is get a reduced sentence. So he is lying about a project that everybody knew about', Trump told reporters at the White House.
The project to build a skyscraper bearing Trump's name in Moscow was never completed. Speaking about the project in Moscow, Trump said he decided not to move forward with it. He added that there would be nothing wrong with building a real estate project in Moscow and stressed that everyone knew about this business idea.
Trump also said that if he had not won the 2016 presidential election, staying in private business would be his option.
'There was a good chance that I wouldn't have won, in which case I would get back into business', Trump stated.
Shortly before that, Michael Cohen admitted to making false statements in 2017 to the US Senate Select Committee on Intelligence about the Trump Tower plan in a plea agreement published by the Justice Department on Thursday.
"Michael Cohen of New York, New York, pleaded guilty on Nov. 29, 2018, to making false statements to the US Congress in violation of 18 U.S.C. 1001 (a)(2)," the Justice Department said.
Cohen appeared in a federal court in Manhattan on Thursday to enter the guilty plea.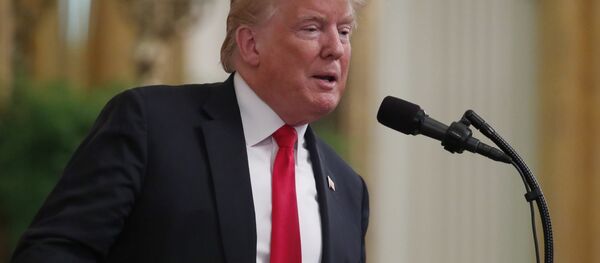 26 August 2018, 03:56 GMT
Earlier, sources told ABC News Cohen has accepted a plea deal with Special Counsel Robert Mueller admitting he made false statements during his testimony to Congress. According to the broadcaster, Cohen had sat with Special Counsel Robert Mueller's team and answered questions about Trump's business with Russia.
As Trump's personal attorney for more than a decade, Cohen role in the Trump Organization included several projects, including tentative plans for a Trump Tower in Moscow. In August, Cohen pleaded guilty to other federal charges involving his businesses, bank fraud and his campaign work for Trump.
The reports come amid the investigation of Russian alleged interference into the 2016 election, as well as any coordination between Moscow and the Trump Campaign.
READ MORE: Trump Says His Ex-Lawyer Cohen Was 'Lying' in His Testimony — Reports
The Kremlin has repeatedly denied all allegations of interfering in the election, calling the accusations 'absurd'.
US President Donald Trump, in his turn, has called the investigation a witch hunt and has urged the special counsel to conclude the probe as soon as possible because no credible evidence has been offered in more than a year.