Saudi Arabia has signed a letter of offer and acceptance with the United States for the purchase of Lockheed Martin's THAAD missile defence system, a State Department spokesperson announced on Wednesday, CNBC reported.
'The sale of the THAAD missile defence system benefits US national security by supporting the long-term security of Saudi Arabia and the Gulf region in the face of the growing ballistic missile threat from the Iranian regime and Iran-backed extremist groups,' the spokesperson added.
This is seen as a significant step forward in the $15 billion deal paving the way for the sale of 44 Terminal High Altitude Area Defence launchers, missiles, and related equipment, which has been aggressively lobbied by the White House, including through a personal telephone exchange between President Trump and Saudi King Salman.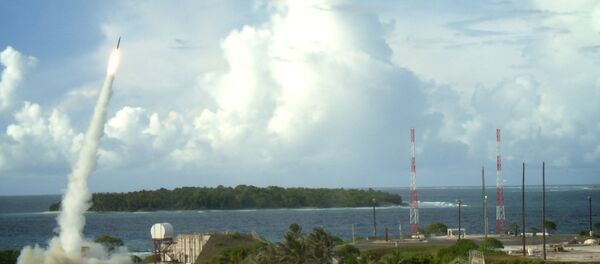 6 October 2017, 22:37 GMT
The Saudis are the top buyers of US-made arms, which has safeguarded the kingdom from retaliatory sanctions over the killing of journalist Jamal Khashoggi, a prominent Saudi critic.
The Trump administration and the US defence industry have been working hard in recent weeks to salvage the much-touted $110 billion arms package for Saudi Arabia amid rising concerns about the role of the kingdom's leadership in Khashoggi's death.
Commenting on the potential impact to US defence companies if Washington were to block arms sales to Riyadh over Khashoggi's killing, President Trump said last week that 'Boeing, Lockheed, Raytheon, all these [companies]. I don't want to hurt jobs. I don't want to lose an order like that'.
READ MORE: US Mulls THAAD Missiles for India to Scrap S-400 Deal With Russia — Reports
Terminal High Altitude Area Defence (THAAD), formerly Theatre High Altitude Area Defence, is an American anti-ballistic missile defence system designed to shoot down short-, medium- and intermediate-range missiles in their terminal phase.
The THAAD interceptor carries no warhead, but relies on its kinetic energy of impact to destroy an incoming missile.