United States Air Forces Central Command has been publishing munitions data regularly since 2006, but comprehensive records are only available on their website dating back to 2009. Second to 2018, 2011 saw the most bombs dropped, according to the available data.
Sputnik News first reported in June that the US military was outpacing every other year on record in terms of bombs dropped on the country in 2018. With data from October now available, that distinction remains.
By this time in 2011, at the height of then-President Barack Obama's troop surge, the US had dropped 4,453 bombs on Afghanistan. Between January 2018 and the end of October 2018, that number stands at 5,982.
That's an increase of more than one-third.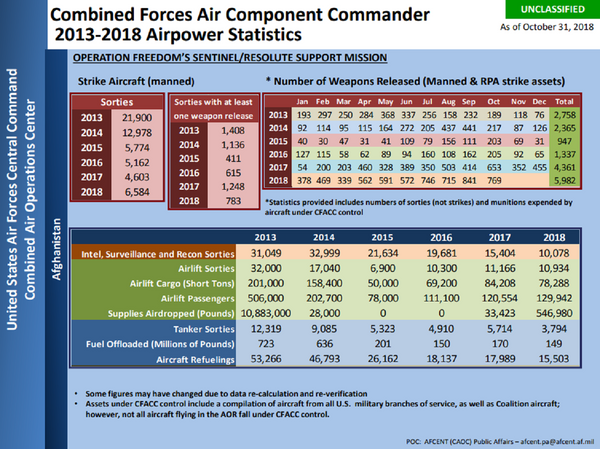 Number of weapons released by aircraft under Combined Forces Air Component commander control in Afghanistan between January and October of 2018.
In the entirety of 2011, the US dropped 4,896 bombs on Afghanistan. That means that with two months left in the year, the US has already dropped more than a thousand more bombs on Afghanistan than it did in any other year on record.
US President Donald Trump aims to push the Taliban into negotiating a peace plan in response to the US' ramped up bombing campaign. On Wednesday, NBC News reported that Trump seeks to withdraw the US from the country prior to the 2020 American elections.
Meanwhile, the US military says it is investigating claims that some 30 civilians were killed by a US strike in Afghanistan's Helmand province earlier in the week.
Despite the Trump administration's bombing spree, the Taliban has continued to make gains in the country.
Sputnik News recently reported that Afghan authorities control or influence a mere 55.5 percent of the country, according to the US Military's Special Inspector General on Afghanistan Reconstruction. That's the lowest figure since the government oversight authority began keeping tabs on areas under Taliban or government control in November 2015.