The European Union suggested the special purpose vehicle (SPV) in September as a way to evade US sanctions on Iranian oil trade and banking. Russia and China are also involved in its creation.
"The SPV is on the agenda in our talks with EU countries as they struggle to set up a payment mechanism … We are not going to wait forever. But we believe we should give the Europeans more time," Araghchi said in an interview with the IRNA news agency.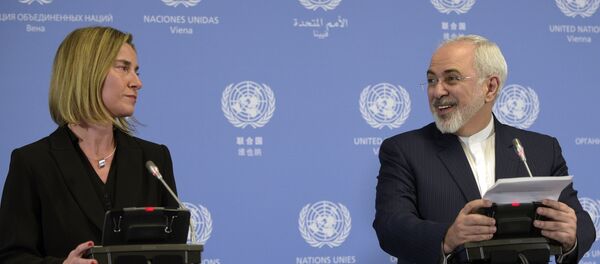 28 September 2018, 11:18 GMT
Earlier this month, US President Donald Trump reimposed sanctions on Iran that were waived under the 2015 pact limiting Tehran's nuclear research. He told foreign firms in Iran to phase out operations or face penalties. The European Union vowed to continue trading with Iran outside the US financial system.
READ MORE: Iran Working With EU on Alternative to SWIFT Amid US Sanctions
After the reimposition of the US sanctions against Iran Abdolnassr Hemmati, the head of the country's Central Bank stated that Iran "considering the possibility of banks being disconnected from SWIFT, have considered alternatives to replace it".
The SPV, proposed in September is one of those alternatives, which is expected to become a replacement of SWIFT.