The Syrian foreign ministry has sent a letter to the UN Secretary-General and the president of the UN Security Council containing a blistering criticism of the United States and Israel over their regular aggression inside Syrian territory.
Focusing its attention on Friday's US-led coalition attack on the village of al-Safa, which led to the deaths of over 30 civilians, as well as the Israeli air forces' alleged Thursday strikes, the letter argued that the strikes "clearly reflect the US's disregard for humanitarian values and its confempt for international law."
"The creation of the US coalition is completely contrary to the principles and foundations of international law," the letter, cited by the Ikhbariya TV channel, said. "These repeated attacks continue the episodic aggression against the sovereignty, unity and security of Syrian territory, and their goals are similar to regular Israeli attacks, the last of which was carried out over the al-Kiswah area south of Damascus. This is just another piece of evidence that Israel supports terrorist groups and is trying to prolong the conflict in Syria."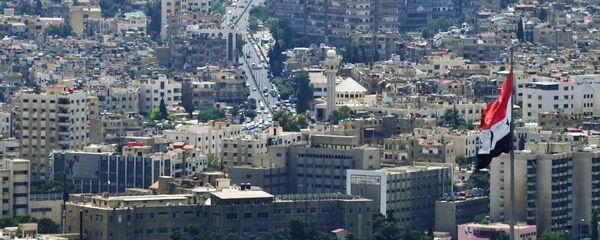 30 November 2018, 06:04 GMT
"Syria condemns these crimes and repeated acts of aggression and calls on the UN Security Council to take immediate measures to end and condemn them," the letter stressed.
Earlier, a high ranking Syrian security source told Sputnik that Syrian air defences had downed several aerial targets attacking Syrian territory about 40 km southwest of Damascus on Thursday night. Initial reports suggested that an Israeli warplane had been shot down during the strikes. These were later refuted. The Israeli military denied that one of its planes had been hit, and denied allegations of staging an attack. Eyewitnesses have since published video footage of Syrian anti-aircraft missiles appearing to intercept approaching missiles in the skies outside Damascus.