The SDF, which is one of the parties engaged in conflict with the Syrian government, claimed in a statement that it detained Osama al-Awaid last week, Reuters reported.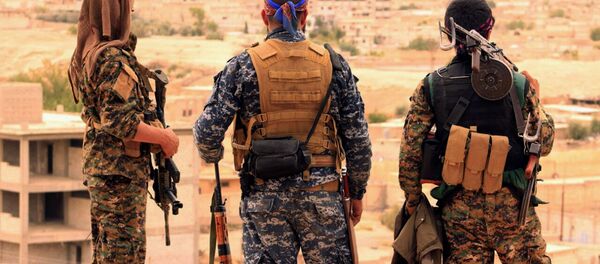 4 November 2018, 22:33 GMT
Awaid was captured in a special operation in a village in eastern Syria, the statement said, adding that he had been a senior security official for Baghdadi, Daesh's "caliph."
Daesh, a terrorist group that took control of much of Iraq in 2014 and 2015, as well as establishing strong presences in other nations, lost its territorial "caliphate" in both Syria and Iraq a year ago. However, the group has been able to launch guerrilla attacks in areas controlled by both the Syrian and Iraqi governments, and Baghdadi's whereabouts remain unknown.
READ MORE: US Supplies More 'Missiles, Howitzers, Machine Guns' to SDF – Spokesman
The SDF is a coalition of US-backed militants with the stated goal of creating a secular, democratic and federalized Syria, mostly composed of the Kurdish People's Protection Units (YPG), which are considered a terrorist group by Turkey. The group is sponsored by the US government, which supplies it with armaments and hardware, an SDF spokesman told Sputnik Turkey earlier this month. The SDF's actions are considered illegal by Damascus, yet the group has insisted that it is determined to fight the remaining strongholds of terrorism in the country.
In May 2017, US President Donald Trump approved a measure to provide SDF units in Syria with heavy armaments, including mortars and machine guns.
Daesh (IS/ISIS/Islamic State) is a terrorist group banned in Russia and many other courntries.