French President Emmanuel Macron and Interior Minister Christophe Castaner arrived on Sunday to the Arc de Triomphe in Paris to inspect damage inflicted during recent clashes in the French capital, a Sputnik correspondent reported from the scene.
READ MORE: France to Consider State of Emergency Amid 'Yellow Vests' Protests — Spokesman
One of Paris' most recognizable landmarks, the Arc de Triomphe, was sprayed with paint by protesters who demanded Macron's resignation. TV images reveal that the monument was defaced with anti-capitalist slogans; another symbol of the French republic, a statue of Marianne, was smashed by vandals.
The monument is closed to the visitors.
Speaking at a press conference in Argentina on Saturday, the French president harshly condemned violence and pledged to bring perpetrators to justice. Macron earlier stressed, commenting on the protests, that the country's authorities would not revise their decision on fuel prices hike.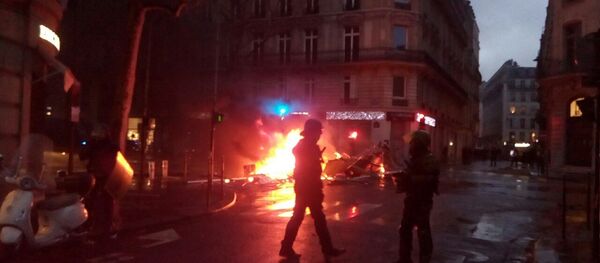 1 December 2018, 16:28 GMT
The "yellow vest" protests have been held in France since November 17. This Saturday, the demonstration was scheduled to start at 2 p.m. local time, but people dressed in yellow vests began to gather on the Champs Elysees in early morning.
In late 2017, the French government approved the decision to raise direct tax on diesel fuel, which is the most popular type of fuel in the country. The diesel prices in France have risen by around 23 percent since the beginning of the year, while the gasoline prices have gone up by 15 percent. Prices are set to increase further in January.