"Meeting of the city's crisis unit was held this morning. Workers of municipal services were mobilized all night to rehabilitate the streets of Paris. The amount of work is immense. This mobilization continues on Sunday. A huge gratitude to them," the mayor Hidalgo, who chaired the meeting, said on Twitter.
In turn, her deputies Christophe Najdovski and Jean-Francois Martins noted that the count of city services workers who worked all night long amounted to "many hundreds."
READ MORE: Macron Visits Arc de Triomphe Following Violent Paris Protests (PHOTOS, VIDEO)
The "yellow vests" protests, named after the obligatory attribute of French drivers, a yellow light-reflective vest, have been held in France since November 17. The demonstrators protest against the fuel prices increase.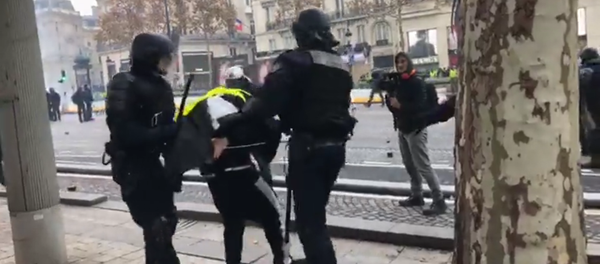 1 December 2018, 13:00 GMT
This Saturday, the rally has seen violent clashes of demonstrators with the police. During the riots, 412 people were detained, of which 387 remained in custody on Sunday morning. As many as 133 people were injured during the protests, including 23 security officials. According to RT Editor-in-Chief Margarita Simonyan, a total of 12 RT journalists were injured while covering mass protests on Saturday.
French President Emmanuel Macron stressed, commenting on the protests, that the country's authorities would not revise their decision on fuel prices hike. He strongly condemned the violence and stressed that those responsible for it would be revealed and brought to justice.