Google, for example, saw a massive uproar from its employees after it was revealed that the company was working on Project Maven, a Pentagon project to use artificial intelligence to analyze drones. While Project Maven remains a degree away from AI-powered weaponry, it's another step down a slippery slope, according to the 4,000 Google employees that signed a letter opposing their company's cooperation with the US Defense Department. In June, Google said it would not renew their contract for the project.
On Saturday at the Ronald Reagan National Defense Forum, one panel spoke directly to the conundrum Silicon Valley finds itself in, caught between a public that is wary of a Terminator-like future of autonomous killbots and a Department of Defense with deep pockets and a growing hunger for AI's applications to traditional tools of warfare.
That panel, entitled "A view of defense from Silicon Valley: How can we better engage the tech world?," featured Microsoft President Brad Smith; Rachel Olney, who founded a geographic location startup called Geosite; Palmer Luckey, founder of virtual reality company Oculus VR; and Michael Brown, director of the Department of Defense's Defense Innovation Unit, which gives companies grants to work on prototype projects that could help the US military.
"What's changed in 2018 — I think — is that we've seen these issues come to the forefront where there is some angst among some people," Smith said. "And one can always debate how many, et cetera. But there's been no doubt that at Google, and Amazon and Microsoft — you know — we've had employees who've signed petitions saying, 'Gee we don't want our companies to do this kind of work.'"
Asked by the moderator to address what lessons he had learned from handling ethics and policy differences with employees related to "working with the government, particularly on defense issues," Smith said that Microsoft had made its positions clear to their employees.
"For us, we've been clear: we are gonna provide the US military with access to the best technology — to all the technology — we create. Full stop. We just said that flat out."
Later, while expanding on his communications with his employees on these issues, Smith suggested that Microsoft has sought to convince its workers that the US military is a bastion of morality.
"That's the point we made — that I made — to our employees: that when we support the military, we are supporting an institution that freed the slaves and liberated the Europeans and has focused on these issues since the creation of chemical weapons and expanding bullets in the 1800s," he said.
"We want Silicon Valley to know just how ethical and honorable a tradition the military has," he added.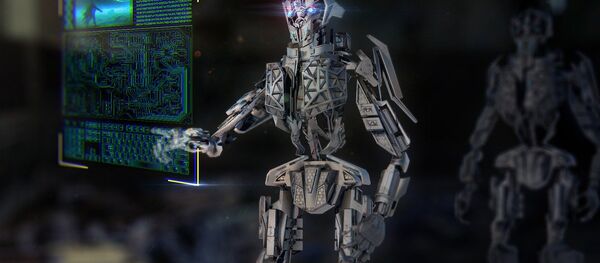 The US military is currently investigating the deaths of nearly two dozen Afghan civilians in US Air Force strikes on Tuesday in the country, where it has waged war for 17 years.
However, if you ask Luckey, who is believed to have made as much as $700 million from Facebook's acquisition of Oculus VR, the people who are opposed to increased collaboration between the Pentagon and Silicon Valley are a "radical' but "vocal minority."
"The reality is that most people in Silicon Valley don't actually believe those things; most of them actually do support a strong military," Luckey, who used the his money from Oculus to, in part, start a pro-Donald Trump "social welfare 501(c)4 non-profit dedicated to s**tposting in real life," told the forum. We don't need to cater to these people who are never going to be happy no matter what you do on the culture side."