"This amalgam that emerged now serves to destabilize the movement … Different actors are trying to take advantage of this movement, because there are people behind it, and it has serious power," he said.
Kujawa said there was no more common line of behavior, after labor unions and the far-right joining in on the movement, adding, "we feel that it's done to prolong the protest."
READ MORE: WATCH Policemen in France Take off Helmets in Solidarity With Fuel Protesters
Prime Minister Edouard Philippe canceled a meeting with members of the "yellow vests" grassroots movement on Tuesday after they received death threats.
Kujawa confirmed to Sputnik that activists defending more liberal goals were being threatened on social networks and in text messages.
"The groups of extremists are behind those threats aimed at destabilizing the movement. The movement today is a movement of destabilization," he said.
Four people have been killed in the unrest since it broke out over two weeks ago. It began as an outcry against more fuel duty hikes but has since widened to include students, medics and others protesting a range of policies. This led to clashes with police in Paris over the weekend.
On Latest Decision to Suspend Fuel Tax Hike
The announced six-month suspension in France of fuel duties rise is too short and will only prolong the inevitable unless extended to at least one year, Rodolphe Kujawa told Sputnik.
"I think that the delay has to be much longer. We need to freeze the tax for at least one year," he said, adding this would prove the authorities were "really taking time to think things through to do it better."
Prime Minister Edouard Philippe announced the measure on Tuesday after weeks of violent anti-fuel tax protests that have escalated to nationwide action against a range of economic policies. Four people have died since the unrest began.
READ MORE: Poll Shows Over 70% Back 'Yellow Vests' as Protests Rock France
Kujawa, from the "yellow vests" movement, called so for wearing this piece of garment, said people now wanted a say in the policy-making and an end to unpopular reforms.
"I think it won't be enough to calm it down because people want more today. Six months is time, but people will think it's prolonging the inevitable," he said.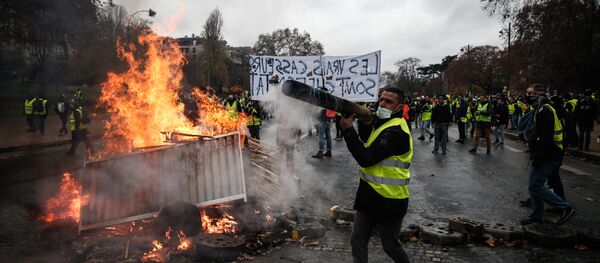 3 December 2018, 06:46 GMT
Kujawa added a year-long wait was likely to come with a bigger price tag but a shorter time would only split the movement between those ready to accept the pause and those determined to get better terms.
"It risks costing a lot to France, but it's for the best after. Even if freezing the tax has a price, it's a price of something best … The problem is that the French people lost confidence in politics," he said.
French President Emmanuel Macron said the tax hike was part of France's ecological transition. His rating hit a new low on Tuesday, according to an Ifop poll, with only 23 percent now having a favorable opinion of him.