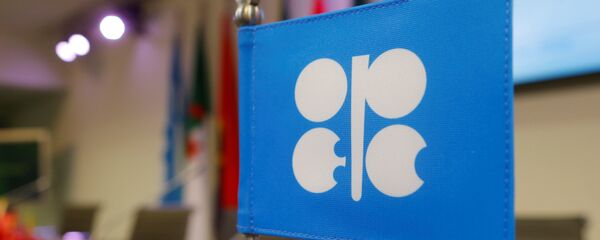 23 November 2018, 18:13 GMT
The reason behind the downtrend is a record increase in the volume of commercial oil reserves in the United States, and in addition, the actual increase in production by Saudi Arabia and other OPEC countries.
In light of such developments, oil traders were concerned over the outcome of the upcoming discussion of the OPEC+ strategy in 2019 on 5-7 December.
The prospect that OPEC and non-member countries would decide not to cut output, seemed quite real, and in this case, the market would be "inundated" with excess supply, and prices would return to the 2014 levels, market participants feared.
Russia, Saudi Arabia to the Rescue
The meeting between Russian President Vladimir Putin and Saudi Crown Prince Mohammed bin Salman on the margins of the G20 summit in Buenos Aires put an end to the uncertainty. As a result of the summit, the two agreed to extend a crucial agreement on oil output – OPEC+.
READ MORE: Qatar Intends to Leave OPEC in January to Focus on LNG, Gas Production
Although there are no specific figures on volumes so far, the market reacted immediately: Brent prices surged by five percent. Analysts point out that Saudi Arabia and Russia are the key parties to the OPEC + agreement and almost singlehandedly determine the cartel's decisions:
"Most likely, the meeting itself will simply fix what has been agreed, leaders make the decision here. In fact, the ministers will have to consolidate the agreements reached on reducing output in order to avoid oversupply", Alexander Egorov, Teletrade's currency strategist, said.
In the meantime, Andrey Kochetkov, a leading analyst at Otkritie Broker, also pointed to significantly increased chances of a positive outcome of the OPEC+ meeting.
"If the two major oil producers are ready to support the market, then the other parties to the agreement will join them, as it happened in 2016", he said.
Oil Surges on US-China Truce
Oil prices were also boosted by the fact that the US and China struck a 90-day trade war truce: President Donald Trump agreed not to raise tariffs on $200 billion worth of Chinese imports from 10 percent to 25 percent starting on January 1, while Chinese President Xi Jinping promised to purchase more US goods to reduce the trade deficit.
READ MORE: US Reviewing Anti-OPEC Bill as Trump Urges Saudis to Lower Oil Prices — Reports
Such a "ceasefire" is an important factor for the global oil market, since it reduces the risks of disrupting the balance of global supply and demand. If they still succeed in putting an end to the trade war, the Chinese economy will receive a boost and, accordingly, increase the volume of energy purchases to meet the needs of its enterprises.
Qatar Out
Since Qatar unexpectedly announced its withdrawal from OPEC in January to focus on LNG, oil prices slightly slipped. But the further influence of this factor is expected to be low, since Qatar's share in the total production of black gold is relatively small: only 1.75 percent of world oil output.
"Qatar did not want to take on additional commitments ahead of the OPEC meeting and other oil-producing countries could theoretically follow his example", said Andrei Vernikov, deputy general director for investment analysis of Zerich Capital Management.
Analysts estimate that taking into account possible oil production cuts by OPEC + members, Brent oil prices will stabilise between $60-70 per barrel, which is favourable for both consumers and producers:
"The decision of the authorities of the Canadian province of Alberta to limit local output to 320 thousand barrels per day can also be a key point in stabilisation in order to avoid overflowing of local oil storage facilities", Kochetkov noted.
Andrei Vernikov considers $65 per barrel to be the maximum and does not rule out that after the OPEC+ summit on December 6–7, the price of Brent will slide to $58.

4 December 2018, 07:36 GMT
Although Russia and Saudi Arabia have agreed to extend the OPEC + agreement to reduce oil production, there are other actors who need high oil prices, for instance, Venezuela. Taking into consideration their interests, summit participants may agree to a fairly moderate cut in production.
Last week, the OPEC advisory committee recommended a cut of 1.3 million barrels a day from the October 2018 level to bring supply and demand into balance in 2019, but since then the government of Canada's oil-rich Alberta province announced its plans to reduce its production by 325,000 barrels a day.
In 2016, OPEC and a handful of non-OPEC oil producers agreed to reduce oil output by a total of 1.8 million barrels per day in a bid to stabilise global oil prices, while non-OPES states vowed to cut production by 558,000 barrels per day.