President Donald Trump has urged US citizens to convince the Democrats to support financing the wall along the US-Mexico border by explaining its financial benefits. According to Trump, the US loses some $250 billion a year due to illegal immigration, while the wall is estimated to cost only $25 billion. He also reminded US lawmakers about the drug flow across the border with Mexico.
Could somebody please explain to the Democrats (we need their votes) that our Country losses 250 Billion Dollars a year on illegal immigration, not including the terrible drug flow. Top Border Security, including a Wall, is $25 Billion. Pays for itself in two months. Get it done!

— Donald J. Trump (@realDonaldTrump) December 4, 2018
Trump summed up his message by calculating that the wall would pay for itself in just two months. His criticism against US Congress Democrats', whose votes Trump needs, unwillingness to fund the wall comes amid reports of migrants breaking through the US-Mexico border.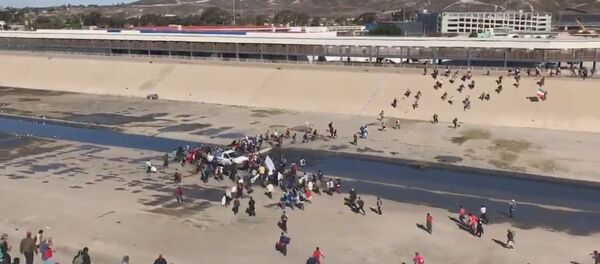 27 November 2018, 06:26 GMT
According to Reuters, around 25 migrants from the caravan currently in Tijuana, Mexico, climbed over a 3m high fence on Monday night, 3 December and came down on US soil. Reuters' report suggested that the migrants used blankets and ropes in order to scale the fence.
Still, the US Border Patrol reportedly caught most of the perpetrators, although some of them may have escaped.
The reported breach of the border took place weeks after several hundred migrants attempted to storm the US border, attacking Border Patrol agents with stones on their way to it, but were repelled by tear gas used by the latter. US President Trump strongly condemned the migrants' violence, calling the caravan coming from Central America through Mexico an "invasion." The incident further fuelled Trump's calls for the US Congress to provide financing for the wall.