Ecuador's President Lenin Moreno urged the WikiLeaks founder Julian Assange to leave the Ecuadorian embassy in London, where he has been hiding for years, claiming that the extradition to the US no longer threatens him, as the UK has provided written assurance of it.
"The road is clear for Mr. Assange to take the decision to leave", he said during a radio interview on 6 December.
The Ecuadorian president didn't say whether he is planning to force Assange to leave the embassy, but noted that his legal team is considering options for their next step.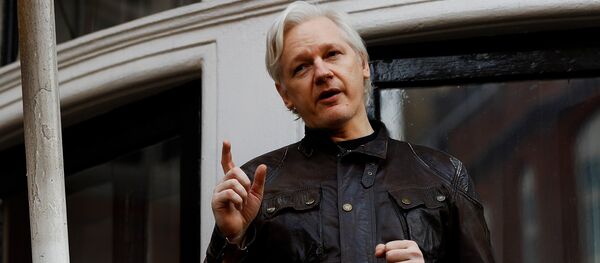 26 October 2018, 16:18 GMT
Moreno has previously raised the issue Assange's lengthy stay at the embassy and considered his departure in the near future. At the same, time he has demanded assurances from British authorities that the WikiLeaks founder wouldn't be extradited to the US upon leaving the Ecuadorian Embassy.
Assange has been staying in the Ecuadorian Embassy in London since 2012. He was arrested by UK authorities on allegations of sex crimes in Sweden, but was released on bail. Assange subsequently violated his bail conditions by applying for asylum at the Ecuadorian Embassy, thereafter fearing that he would be arrested by British police and extradited to the US for cable leaks, which were published on his website.
READ MORE: Roger Waters Urges Ecuador Not to Give Assange Up to US 'Evil Empire' (VIDEO)
The WikiLeaks founder was restricted both in terms of personal visits and internet access in 2018 over alleged violations of his terms of asylum. Following repeated demands from his supporters and lawyers, his internet access was partially restored.