A British radical group, which goes by the name Sonnenkrieg Division, has posted a picture of Prince Harry, his image accompanied by a swastika in the background and a gun pointed at his head. The inscription in the picture reads as follows: "See ya later, race traitor!" referring to the newly-minted Duchess of Sussex's famously darkish complexion.
The propaganda image has been put together by a university student from Bath, 21-year-old Andrew Dymock, with the group presumably inspired and led by Oskar Koczorowski from west London, a boy of just 17 years of age, a BBC investigation has found. Dymock, whose father is a dentistry professor, denies any wrongdoing through his lawyer, while Koczorowski did not respond to the media outlet's request for comment, although he was directly approached by journalists at his London home.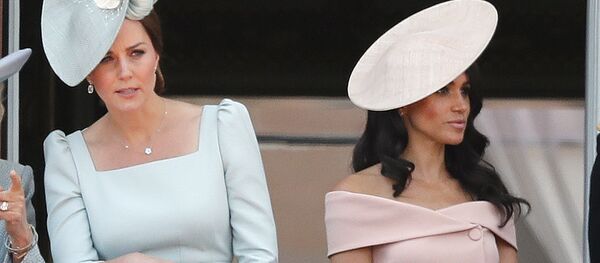 28 November 2018, 16:18 GMT
Private messages exchanged by members of the group via an online gaming server and obtained by the BBC, show their leading activist asserting in a sick message that police officers should be raped "to death" and killed. Meanwhile, the neo-Nazis from the group, found to be an offshoot of the American Atomwaffen Division (the German for "atomic weapon"), which encourages terrorism and worships Adolf Hitler and Norwegian mass murderer Anders Breivik, used pseudonyms to hide their identity as they openly called for violence, promoted cruelty, racism, and misogyny.  Dymock, for instance, goes by the name "Blitzy" in their multiple propaganda chats, promoting their group that they themselves billed "atomwaffen with less guns."
READ MORE: German Police Shut Down Concert Due to Mass Nazi Salute
Along with the image of Prince Harry, the group came up with another one, sporting a female hanging from a noose, which suggests that white women who date non-white men should be liquidated.
 Koczorowski previously posted images of himself wearing an Atomwaffen shirt near the British Parliament and a video of a British national flag being burnt. 
Atomwaffen, whose members have been actively engaging in firearms training and calling for race purges and "a race war" without delay, has been linked to five murders and its co-founder was handed a prison term earlier this year for offences connected with the possession and use of explosives.