"We don't need permission from anyone to cut," Saudi Arabia's oil minister Khalid Al-Falih told reporters ahead of an OPEC meeting in Vienna on Thursday, when asked whether Riyadh got approval from Trump for pushing down oil production.
The US "is not in a position to tell us what to do," he said, a day after President Donald Trump urged the cartel to keep the taps open in order to effectively propel fuel prices down.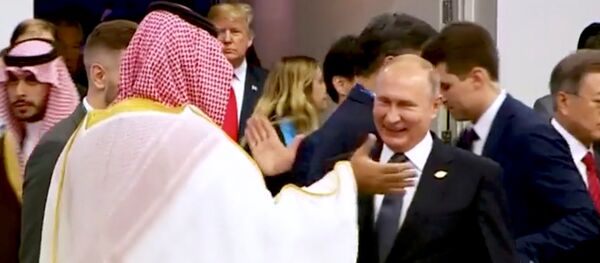 4 December 2018, 12:00 GMT
Saudi Arabia's energy minister also noted that his country sees an oil production cut of 1 million barrels per day as "adequate" to counter recent dips in oil prices, adding that with "all options being on the table" Saudi Arabia would be listening to all views on the matter.
Trump expressed hope in one of his tweets on Wednesday that the major oil organization would "be keeping oil flows as is, not restricted," stressing that there was no need for higher oil prices.
During a sideline meeting at the G20 summit in the Argentinian capital of Buenos Aires on Saturday, Russian President Vladimir Putin and Saudi Crown Prince Mohammed bin Salman agreed to extend into 2019 their OPEC+ agreement to manage the oil market, which has been recently going through a number of setbacks.
READ MORE: Qatari Energy Minister Says Many OPEC Members Regret Doha Exiting Organization
Analysts point out that Saudi Arabia and Russia are the key parties to the OPEC + agreement and almost singlehandedly determine the cartel's intentions:
"Most likely, the meeting itself will simply fix what has been agreed, leaders make the decision here. In fact, the ministers will have to consolidate the agreements reached on reducing output in order to avoid oversupply", Alexander Egorov, Teletrade's currency strategist, said.
The largely downward trend in black gold prices, which made itself especially obvious from October to late November, with the oil prices plunging to an eight-month low, is seen to be due to a record rise in the volume of commercial oil reserves in the United States, and in addition, the actual increase in production by Saudi Arabia and other OPEC countries.

5 December 2018, 18:06 GMT
Last week, the OPEC advisory committee recommended a cut of 1.3 million barrels a day from the October 2018 level to bring supply and demand into balance in 2019 and avoid any further turmoil in the said market.