"The start of formal operational testing is a milestone more than 18 years in the making," Vice Adm. Mat Winter, F-35 program executive officer, said in a statement Thursday.

15 November 2018, 13:30 GMT
"It is the culmination of years of hard work and dedication from the joint government and industry team who completed the most comprehensive, rigorous and the safest developmental flight test program in aviation history. While aircraft are in operational test, the F-35 Joint Program Office will continue to support the delivery of phased capability improvements and modernization of the air system," he said.
The start of IOT&E has been repeatedly put off, Breaking Defense reports. According to the program's schedule put forward in 2012, it should've begun 16 months ago. In August, the start date was pushed forward to November 13 in order to accomodate a software upgrade, but when an F-35B crashed for the first time in late September, the whole fleet was grounded, delaying the start of IOT&E by yet another month.
After the September 28 crash, the Pentagon grounded all F-35s worldwide on October 11 so that their fuel tubes could be meticulously inspected. Engine manufacturer Pratt & Whitney swore up and down that the fuel tubes were fine, but only on October 14 were the F-35s given the green light to fly again, following the replacement of suspect fuel tubes.
However, of the 23 aircraft selected for the IOT&E tests, 17 were found to have faulty tubes, to which Defense News attributes the delay of the test phase.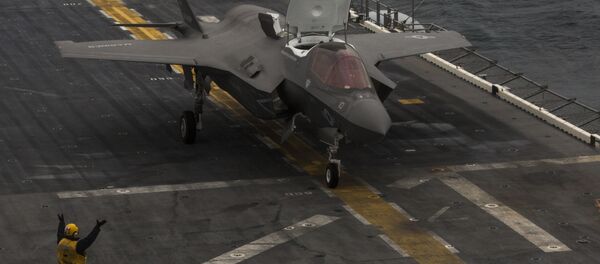 27 September 2018, 18:11 GMT
All three variants of the stealth jet — Air Force, Marine Corps and Navy — are starting the test program, which the Pentagon says will be done by the end of summer 2019. However, Defense News notes that this past September, Air Force Col. Varun Puri stated the program would run until September 2019 — and that was before its start was delayed.
Air Force Magazine noted that some of the plane's evaluations were already started earlier this year. According to the Joint Program Office, those "pre-IOT&E evaluations" included cold weather testing, weapons use, testing of its suitability for use on ships — which two of the three variants do — and "lower-threat missions."
These tests, overseen by Robert Behler, the Pentagon's director of operational test and evaluation, will test "the effectiveness, suitability, lethality, survivability and overall mission capability" of the F-35's three different variants "under realistic combat conditions."
In a way, IOT&E testers will have to make up for an early declaration of Initial Operational Capability (IOC), which means the plane is available in its minimum usefully deployable form. The Marines declared the F-35B's IOC in 2015, while the Air Force's F-35A was declared IOC in 2016. (The Navy's carrier-capable F-35C has lagged behind, with an IOC declaration expected by February of next year.)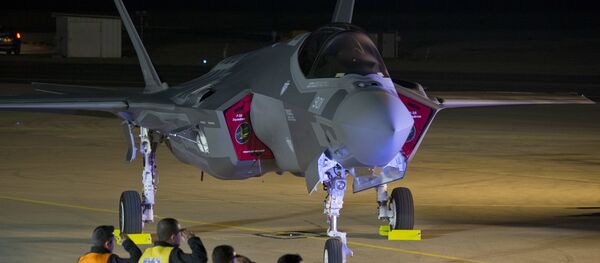 29 August 2018, 23:31 GMT
IOT&E "reveals flaws and shortcomings in new systems," Air Force Magazine notes, but with IOC being declared on a not-yet-fully developed version of the jet, much has been changed in the interim. Testers may find themselves pulling double-duty, testing original systems as well as a few years' worth of newest hacks, especially on the Block IV upgrades, which will be back-fitted onto earlier F-35s to bring them up to speed with the tech on newer ones.
But that's what happens when a plane takes 18 years of testing to even be considered for full production.
"With more than 340 F-35s operating from 15 bases around the world and delivering exceptional capabilities to the warfighter, we are confident in the F-35 weapon systems' operational performance, capability and suitability today and for decades to come," F-35 manufacturer Lockheed Martin said in a statement. "The Department of Defense serves as the lead for the formal F-35 Initial Operational Test and Evaluation, and we look forward to providing our full support."
The F-35 is already at the astronomical price of between $115 to $198 million per plane, considering all the corrections that have had to be made, and the program as a whole is expected to top $1.5 trillion.
Pierre Sprey, a special assistant to the secretary of defense and a former defense analyst who is considered one of the fathers of the A-10 and F-16 jets that the F-35 is intended to replace, told Radio Sputnik in October that "the fundamental reason" the US military continues to use the F-35, despite its numerous shortcomings compared to the warplanes it was due to replace, "is the flawed — I should say corrupted — acquisition process that unfortunately now is running acquisition in the Pentagon."

27 November 2018, 19:08 GMT
"The fundamental problem is very simple: we let Air Force and Navy and Army and Marine generals go to work for contractors who are building weapons that these generals have had influence over while they were on active duty," he told Sputnik. "It's gotten so bad that close to 90 percent of generals involved with air, either with helicopters or Air Force fighters or Marine or Navy fighters, go to work for contractors when they retire. As long as we as a nation permit that to continue, we will never have decent, effective air power. It's impossible when those kind of incentives are operating with that kind of huge money."
However, the F-35s are still being readied for combat despite the testing: last month, the US Air Force staged an "Elephant Walk" exercise in which it practiced launching dozens of F-35As from an airfield only 30 to 40 seconds apart.