Internet users have voiced their utmost outrage over recently released videos sporting French high school students standing on their knees, with their hands on their heads, as helmeted police officers are shown standing nearby grabbing their batons.
The footage captures the moment when unarmed education reform protesters, predominantly teens who staged a rally in Mantes-la-Jolie in north-central France, wound up in handcuffs.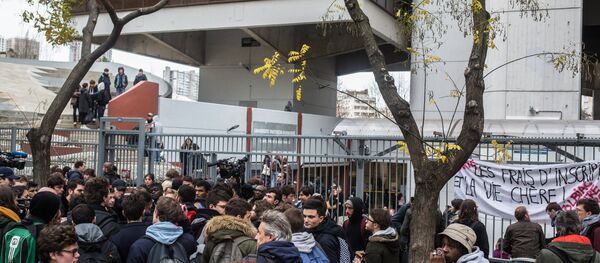 6 December 2018, 12:34 GMT
The video, uploaded on Twitter by a social media group that goes by the suggestive name Violences Policières (Police Violence), drew a storm of criticism, with many referring to the incident as "the execution of children] by firing squad". 
The teens, most of them wearing backpacks, stood in stark contrast to the heavily armed police officers, accused online of "inhuman treatment". "Next step the Guillotine?" one angry Twitterian chimed in.
Over 4 million people have seen the video of police putting school students in a stress position in a matter of hours. Today, young people are mimicking the mass arrest in protests. France is gearing up its huge repressive apparatus, but the effect is likely to be radicalisation. pic.twitter.com/cPtzhD64Vt

— David Jamieson (@David_Jamieson7) 7 декабря 2018 г.
A similar stance was taken by Frédérique Rolet of France's education union, the SNES-FSU, who stated that she found the footage "unbearable", according to French radio station Europe 1. 
According to officials, the student protests seen in Manntes-la-Jolie on Thursday led to as many as 153 arrests, with a similarly tense situation registered across other parts of the country. As the protesters began to thrust Molotov cocktails and glass bottles as officers, law enforcement officers responded with tear gas to disperse the rioters. 
French Prime Minister announced as many as 89,000 members of the security forces will be deployed across France on Saturday, including 8,000 in Paris in light of expected mass protests.
READ MORE: France Abandons Fuel Tax Increase After Weeks of Protest
As of Friday morning, about 700 educational establishments were engulfed and blockaded by protesters, with students expressing anger at the government's plans to reform the exam system, which they say will limit opportunity and breed inequality among applicants. The end-of-school exam, known as the baccalaureate and required for entrance to university, is expected to become stricter, with foreign students obliged to pay higher tuition fees.
One of the demonstrators, Student Louis Benzerrouk, said on Thursday that he was demonstrating because young people "are not listened to".
"We are despised by [Macron and his government]… we really have the impression that they are going in the opposite direction", BBC cited him as saying.