The Star Vancouver news outlet reported from the courtroom that the prosecution claimed Meng had committed fraud by telling the UK-based HSBC banking company that Huawei was in compliance with the US anti-Iran sanctions at a meeting back in 2013.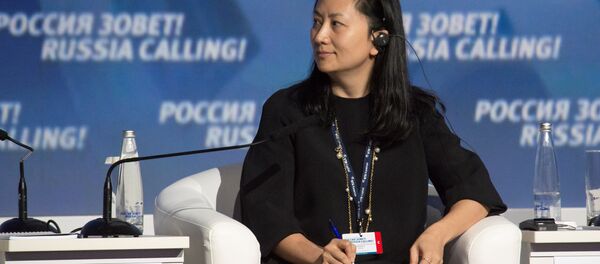 7 December 2018, 22:29 GMT
According to the outlet, the US authorities believe Meng knew that a company named SkyCom, which did business with Iran, was part of Huawei.
Other Canadian media reported that Meng's defense had represented bail conditions which the court took time to review until Monday. The conditions include staying at home and wearing a GPS tracker, among other measures.
Meng, the daughter of Huawei founder Ren Zhengfei, was arrested in Vancouver last Saturday prompting the outrage of the Chinese authorities. Huawei said it was unaware of any wrongdoing on the part of its CFO, who is also the company's deputy chairwoman.
READ MORE: Belgium Considering Ban on Huawei Products in State Institutions — Reports
Huawei has recently faced security concerns on the part of the United States and several other countries that barred the telecom equipment giant from participation in government procurement, claiming the firm was linked to Chinese intelligence.
On Friday, Huawei dismissed claims that it threatened the security of foreign countries.