Law enforcement officers had already detained about 70 people earlier on suspicion that they intended to join protesters in various areas of the capital, Ilse Van De Keere told reporters.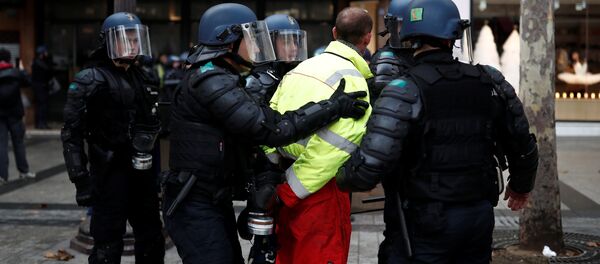 8 December 2018, 04:55 GMT
On Saturday, Belgian police prepared a thousand special forces officers to combat riots in Brussels. As Ilse Van de Keere emphasised, police had "tried to contact the organisers of the protest rallies scheduled for Saturday to warn about unauthorised gatherings of people, but could not do this because they did not find anyone responsible for organising the protest".
Many trains this Saturday did not stop at Brussels Central Station; Parc metro station is closed in the centre of the city near government offices. The rest of the city's subway system is still functioning normally.
Ilse Van de Keere told RTBF that local and federal police, as well as firefighters and employees of Brussels' transport services, are cooperating in order to ensure order.