In an interview with the Sunday Mirror, Charlie Rowley, who was allegedly poisoned with the Novichok nerve agent in the UK town of Amesbury in July, expressed serious concern about his health, fearing that he may die within a decade.
"I may be out of hospital but I don't feel safe. I'm terrified about the future. Doctors simply don't know what the long-term effects could be. The worst thing has been the fear over my sight. I'm struggling to see properly and to walk," the 45-year-old said.
He bemoaned his allegedly being just one of a handful in the world to have survived Novichok, something that Rowley admitted makes him "feel like a guinea pig" because he does not know "what's going to happen from one day to the next."
READ MORE: Salisbury Case 'Problem' for UK Intelligence, 'The Skripal Files' Author Says
"I'm still worried the Novichok could kill me if I get any sort of virus again – it's on my mind all the time. I'm dreading getting a cold. When I got out of hospital the first time I was pleased. But it may have been too soon because a few weeks later I was back – blind and unable to use my left arm with meningitis," Rowley complained.
He cited doctors as saying that he had suffered a spate of strokes and that he needs heart treatment and a pacemaker because of the Novichok nerve agent's hazardous effects.
"The system is flawed. I need counselling. If the authorities offered me help I would take it. I feel let down. I don't think I'll be alive in 10 years. It has been horrendous," he concluded.
READ MORE: Salisbury & Amesbury Cases: Top 5 Unsubstantiated Pieces of 'Evidence'
Rowley's remarks came after his brother Mathew told the Sunday Mirror in late August that Charlie is battling meningitis in the intensive care unit and that the situation is complicated.
"He [Charlie] was in a bad way and I wasn't sure he was going to make it. All of his systems seemed to be shutting down. I don't know much about meningitis, but it shuts down the organs and you can lose limbs and different things," Mathew said.
Earlier that month, the Russian Embassy in London pointed out o a number of inconsistencies between the UK authorities' repeated assurances that the Amesbury incident poses no threat to the wider public and their precautionary measures concerning the incident-related sites taken a month after the alleged poisoning.
READ MORE: Amesbury Poisoning: Toxic Agent Was Reportedly Stored in Perfume Bottle
The embassy urged British authorities to "bring clarity into the situation guided not by the alleged 'Russian threat', but the interests of its people."
On July 4, the UK police reported a "serious incident" in the UK town of Amesbury, where two people were exposed to an unknown substance and hospitalized in critical condition.
Shortly after, the UK police announced that the couple, Dawn Sturgess and Charlie Rowley, were believed to have handled an item allegedly contaminated with the same military-grade nerve agent which was allegedly used in an attack on former Russian intelligence officer Sergei Skripal and his daughter Yulia in neighbouring Salisbury in early March.
READ MORE: Ex-MI5 Officer Sheds Light on 'Narrative' Behind Book on Skripal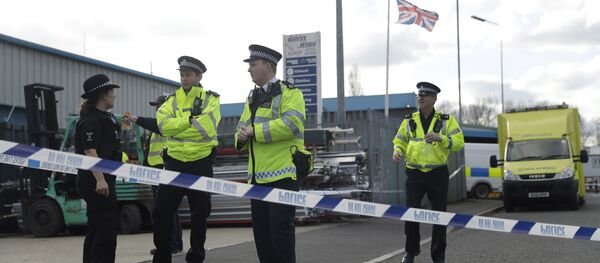 9 October 2018, 17:51 GMT
On July 8, Sturgess died at the hospital, while Rowley was soon discharged from the medical facility. Rowley was hospitalized again three weeks later after he complained that he had vision problems.
UK Home Secretary Sajid Javid accused Moscow of using Britain as a "dumping ground" for poison, while Russia has strongly denied any involvement in both Salisbury and Amesbury incidents, denying all the allegations as groundless.
Within a month of the alleged Skripal poisoning, Russia's proposal for joint investigation into the incident was voted down at the Organization for the Prohibition of Chemical Weapons, the international chemical weapons watchdog.