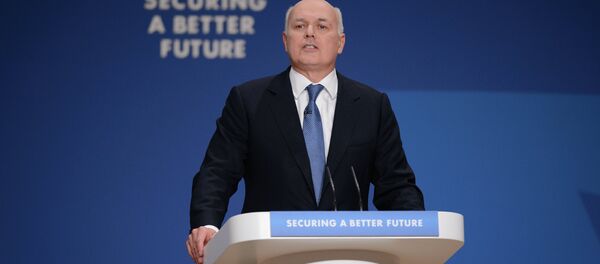 8 December 2018, 11:37 GMT
Ahead of ongoing demands from supporters and opponents to May's Brexit treaty offer for a delay as a means to renegotiate the terms of the EU-UK divorce, Stephen Barclay, the UK secretary for leaving the EU, has affirmed that the vote will go through on Tuesday.
Although cabinet ministers and senior lawmakers have stridently argued for a delay, Barclay — asked whether the Tuesday vote was happening — stated: 'It is," cited by the BBC.
The UK PM office at 10 Downing Street also confirmed that the historic vote would go ahead on Tuesday, according to the Financial Times.
Although May's party sought support for the deal ahead of the vote, an increasing number of Conservative MPs have expressed their intention to vote against the Brexit treaty as it stands.
In particular, the issue of Northern Ireland's status as a customs union 'backstop' has angered many who previously supported May, including a pro-Brexit MP for Colchester, Will Quince, who unexpectedly withdrew his vote.
7 December 2018, 16:33 GMT
Quince declared that he would not accept a "consequent indefinite nature of the customs union if the [Northern Irish] backstop is triggered," cited by Ft.com.
The Colchester MP followed up his remarks by resigning as parliamentary private secretary to UK defence secretary Gavin Williamson.
Another high-ranking MP, Andrew Mitchell, withdrew support for May's Brexit deal without warning, asserting that the current treaty would leave the UK as a "rule taker" while placing the island nation "in a fundamentally weak and subservient position," cited by the Financial Times.
In going ahead with the Tuesday vote, May appears to have set herself up for the biggest defeat of her tenure, as over 100 MPs have announced their intention to oppose the deal.