The EU has introduced sanctions against the head of Russia's Main Intelligence Directorate (GRU) Igor Kostyukov and his deputy Vladimir Alexseyev as part of a new regime of sanctions regarding chemical weapons after the Salisbury incident. Apart from the top GRU officials, the EU sanctioned two individuals, whom the UK earlier called "GRU agents" allegedly responsible for an incident in Salisbury — Alexander Mishkin and Anatoliy Chepiga.
All four were accused of "possession, transport" of the chemical nerve agent that was allegedly used against ex-GRU colonel Sergei Skripal in Salisbury, the UK in 2018.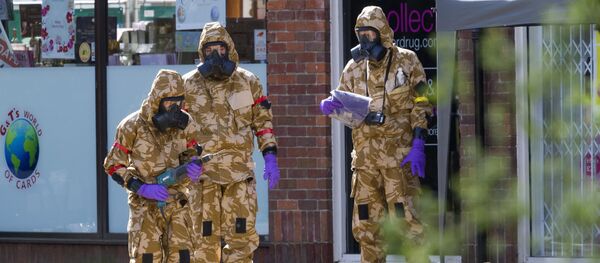 16 January 2019, 13:54 GMT
The sanctions ban EU entities and citizens from conducting business with those affected. Those targeted by sanctions are also banned from entering the bloc and their assets in European banks will be frozen.
Russian Foreign Ministry slammed the unilateral sanctions as unlawful and circumventing the UN Security Council. The ministry added that Russia reserves the right to take measures in response. Moscow also said that the latest round of sanctions against Russia serves as proof of the EU's disrespect for the Chemical Weapons Convention.
The UK has launched a new set of sanctions against Russia. Britain has called these sanctions a "tough action against the reckless and irresponsible activities" of the GRU in March 2018.
READ MORE: EU Prolongs Economic Sanctions Against Russia by Six Months
London accuses Moscow of attempting to poison former Russian intelligence officer Sergei Skripal and his daughter in Salisbury with a military nerve agent. Russia has denied the accusations and pointed to the lack of solid proof substantiating British claims. Moscow offered London its help in an investigation into the incident, but the offer has been repeatedly declined by the British side.
The Salisbury incident sent Russia-UK relations into a downward spiral after London expelled 23 Russian diplomats as a punitive measure with many EU states following suit. Moscow expelled an equal number of European diplomats in response.
Sanctions Against Syria

17 January 2019, 13:47 GMT
The latest batch of EU sanctions also targets the Syria's Scientific Studies and Research Centre, as well as five officials, connected to its operations. The bloc accuses the centre of developing and producing chemical weapons for Damascus.
In addition, 11 Syrian businessmen and 5 entities have been sanctioned by the bloc's decision over participation in projects, funded by the Syrian government. Since 2011 the EU has sanctioned 270 Syrians and 72 entities mostly over working with Damascus.
Syria vehemently denies the accusations of producing and using chemical weapons, noting that international organisations have failed to find any evidence proving those claims and recalling that all the chemical weapons in the government's possession had been destroyed.