Total CEO Patrick Pouyanne expressed his belief on Monday that the French oil corporation could continue functioning in crisis-torn Venezuela despite sanctions imposed by Washington. He added that Total will analyse the situation before reaching a decision.
"First, we have to understand what are exactly the sanctions… we will evaluate but I think you can stay — maybe you will have some conditions to stay," Pouyanne said during an energy forum in Egypt's capital, Cairo.
His comment comes after Reuters reported earlier in the day that Venezuelan President Nicolas Maduro has requested OPEC denounce the US sanctions on Venezuela in a letter.
"Our country hopes to receive the solidarity and full support of the member countries of OPEC and its ministerial Conference, in the fight we are currently having against the illegal and arbitrary intrusion of the United States in the internal affairs of Venezuela," Maduro wrote.
READ MORE: US to Ease Sanctions on Venezuelan PDVSA If Guaido Assumes Control — Treasury
I seek "your firm support and collaboration to jointly denounce and face this shameless dispossession of… important assets of one of the members of OPEC", the letter said.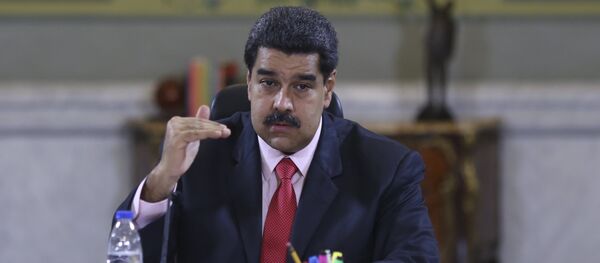 17 January 2017, 02:18 GMT
In the letter, he asked the OPEC to determine potential solutions based on "the impact that this action has on the global energy market, and the risk it represents for the other countries… of this organisation".
Earlier, the United States blocked all assets belonging to Venezuela's PDVSA state-owned oil company in its jurisdiction and imposed a ban on trading with the firm.
Before the sanctions, US refiners had purchased an average of 500,000 barrels of Venezuelan crude oil per day.