Stanford University's Center for International Security and Cooperation reports that the volume of fissile material produced by the Yongbyon Nuclear Scientific Research Center North Korea is sufficient to enable growth in the number of nuclear warheads in the North Korean arsenal.
"Our analysis of open-source imagery of the Yongbyon complex led us to estimate they may have added sufficient plutonium and highly-enriched uranium for an additional five to seven nuclear weapons," says study co-author Siegfried Hecker, who estimated that North Korea made enough nuclear fuel in 2017 to build about 30 warheads.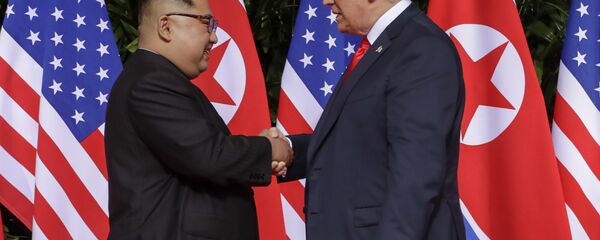 5 February 2019, 23:33 GMT
Pyongyang has taken "the remarkable step" of ending nuclear weapons and long-range missile testing "at a time during which North Korea has been rapidly increasing the sophistication of its nuclear weapons and missiles and their destructive power and reach," researchers said.
The study also questions North Korea's ability to hit a target on the US mainland "with any measure of confidence."
Overall, the study says North Korea "rolled back the threat" researchers believed Pyongyang to pose in 2017.
North Korean leader Kim Jong Un and US President Donald Trump are slated to meet for the second time in Hanoi, the capital of Vietnam, later this month.
Last week, Trump expressed hope on Twitter that North Korea would become an economic "Rocket."