Russian Foreign Minister Sergei Lavrov said on Wednesday that Washington's threats to Venezuela's military violated the United Nations Charter, and are representative of direct interference in the state's internal affairs.
READ MORE: US Senator Threatens Maduro With 'Swift, Severe' Consequences if Guaido Harmed
He also stated that Moscow grew worried about developments in Venezuela following US President Donald Trump's recent statement urging the Venezuelan military to accept opposition leader Juan Guaido's offer of amnesty.
"We are concerned about what is happening around Venezuela. The threats heard from the US, which are actively supported and stimulated by the Venezuelan opposition, which in fact directly invites external intervention, are certainly a violation of the UN Charter and direct interference in the internal affairs of an independent country," Lavrov said during a press conference following talks with his Zambian counterpart Joseph Malanji.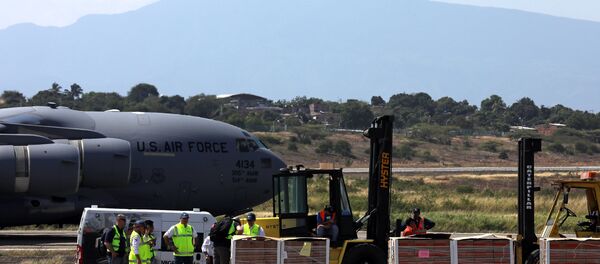 19 February 2019, 07:48 GMT
Lavrov's remarks come after US President Donald Trump said on Monday in a speech to Venezuelan Americans in Miami that the military of the Latin American country could either accept opposition leader Juan Guaido's amnesty offer or "lose everything" as there would otherwise be no way out for them.
On 16 February Venezuelan opposition leader Juan Guaido, who earlier declared himself the country's interim president, called on the Venezuelan Armed Forces, supporting President Nicolas Maduro, to change sides, giving the military seven days to do so, in the anticipation of humanitarian aid arrivals to the crisis-hit country. Prior to that, Venezuela's Ambassador to Russia Carlos Rafael Faria Tortosa said US humanitarian aid could be a trap to be followed by military invasion.
Venezuela has long been facing political turmoil and the situation deteriorated on 23 January, when opposition leader Juan Guaido declared himself interim president, disputing President Nicolas Maduro's re-election last year. While the United States has openly backed Guaido, the European Union did not issue a joint statement following suit because the motion was vetoed by Italy, according to a diplomatic source. Despite this, however, many European countries have individually voiced their support for the Venezuelan opposition leader.
Russia, China, Mexico, among other nations, voiced support for Maduro, who, in turn, accused Washington of orchestrating an attempted coup.