The United States special envoy for Venezuela will travel to Cucuta, Colombia on 21-22nd February to support humanitarian aid delivery, US State Department announced.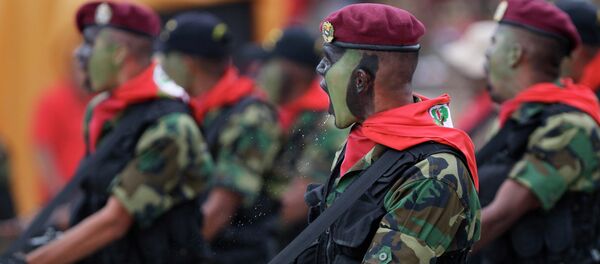 21 February 2019, 16:31 GMT
Venezuelan president Nicolas Maduro said Caracas would not allow such aid into the country, noting the country was coping with its difficulties and that US 'concerns' over Venezuela's humanitarian crisis were "fabricated by Washington over the last four years to justify intervening in our country."
US "humanitarian aid", now stockpiled in Columbia is expected to reach Venezuela on 23 February. Venezuelan opposition leader Guaido will personally accompany a convoy of aid as it makes its way into Venezuela, Reuters has reported.
READ MORE: Venezuela to Close Border With Brazil, May Do the Same With Colombia — Maduro
On Wednesday, Trump National Security Adviser John Bolton told the Venezuelan military not to "condone or instigate violence against peaceful civilians at the Colombian and Brazilian borders" and to "allow them to peacefully bring in humanitarian aid," warning that any infractions "will not be forgotten."
A long-russning political crisis in Venezuela escalated after opposition parliament speaker Juan Guaido declared himself interim president, disputing last year's re-election of Maduro. The United States, quick to recognize Guaido, were followed by a number of other countries. Russia, China, Mexico, Turkey and Uruguay, on the other hand, were among those that voiced their support for Maduro as the country's legitimately elected president.