"We are in favour of sanctions targeting Maduro and people immediately close to him specifically and that do not make the lives of Venezuelan citizens worse", German Foreign Ministry spokeswoman Maria Adebahr stated.
At the same time, Ulrike Demmer, the deputy spokeswoman of the German government has made a similar statement.
"As you know, the European Union has taken measures targeting certain members of the regime [the government of Venezuelan President Nicolas Maduro]. We support further sanctions and are in close contact with our European partners on this matter," Demmer said at a briefing.
She explained that German authorities condemn the Maduro forces for blocking humanitarian aid from entering the country.
"The German government condemns the forcible blockade of humanitarian aid on Venezuela's border with Colombia and Brazil. As you know, High Representative of the EU [Federica] Mogherini released a statement on this topic yesterday. We would like to emphasize once again that we strongly condemn the use of violence by the security forces of Maduro, and the involvement of police and militants to further intimidate the population is of particular concern," Demmer told a briefing.
Berlin urged the Venezuelan government to avoid any violence and allow humanitarian aid to enter the country, she added.
Previously, Venezuelan Vice President Delcy Rodriguez has dismissed allegations about a humanitarian crisis in the country and recalled that international law provided for deliveries of foreign humanitarian aid only in cases of natural disasters and armed conflicts. Caracas has also warned that the illegal entrance of any vehicle into Venezuelan territory would be considered an offence by the country's military officers.
Germany's move follows similar punitive measures by Washington, which sanctioned the wife of Venezuelan President Nicolas Maduro, the country's officials and the state oil and gas company, citing the "destruction of democracy in Venezuela".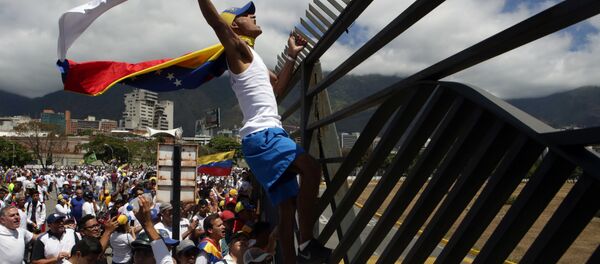 25 February 2019, 10:11 GMT