"Russia is ready to extend the license and increase the production of T-90 tanks in India following the decision taken by the Indian government to purchase more tanks for the national army. We will continue to provide our partners with necessary assistance in further production of the armored vehicles in question," a representative of the federal service said.
READ MORE: Mock-Up of Russia-Made T-90 Tank Allegedly Spotted During Chinese Military Drill
Earlier in the day, India's Cabinet Committee on Security (CCS), the country's highest decision-making body related to national security matters —approved the $1.93 billion procurement of 464 Russian-made T-90MS main battle tanks (MBTs) for the Indian Army (IA). With the final approval at the country's highest decision-making body under the chairmanship of Prime Minister Narendra Modi likely to go through without any hitches, it is expected that India and Russia will sign the final contract of the deal in next few months, official sources told the defence news portal Janes.
"The low ground pressure of T-90 MS tanks will play a crucial role in the western border as the lightweight tank can move at a fast pace even in the soft sands of Rajasthan and the mud of Punjab," a government official told Sputnik while providing details about the decision to go with the T-90MS.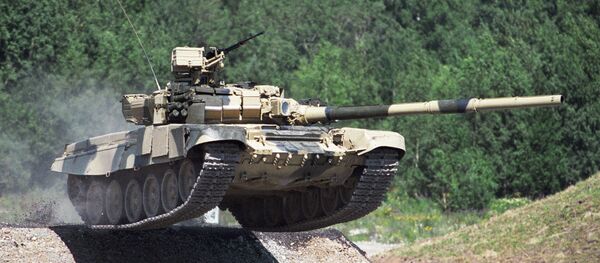 18 September 2018, 17:45 GMT
The T-90 is a third generation Russian tank, and is known for its firepower. The export version of the new T-90MS tanks includes fragmentation projectiles with remote detonation to cause additional havoc among the adversary's ranks. The T-90MS will replace the older T-72 tanks. It addresses some of the shortcomings of the original T-90. It is easily transportable and isn't as heavy.
The T-90MS will be equipped with thermal imaging night sights to allow tank commanders to fire at enemy locations even during night battles, having improved first fire capability with the automatic tracking of targets. The ability to automatically track targets allows the tank gunner to "lock-on" to a target once and then let the computer track it instead of manually tracking it — a difficult task in a moving tank that is traversing rough terrain.
Last year, the Indian government issued its approval to develop an individual underwater breathing apparatus (IUWBA) for T-90 tanks that will allow the tank's crew to operate submerged tanks continuously for at least 45 minutes. The Indian army has issued an annual requirement of 2,000 units for underwater breathing equipment with 2019-20 as the target delivery date.