The Government of National Accord (GNA) aviation is targeting the Field Marshal Khalifa Haftar's Libyan National Army (LNA) positions located not far from Libya's capital, Tripoli, an LNA source told Sputnik.
"The military aviation of the Government of National Accord has hit the LNA Army's points in the Sukh al-Ahad region located 40 kilometres from Tripoli," according to the source.
The source also stated that clashes between the rival forces recommenced in al-Aziziya to the south of Tripoli and Ayn Zara.
READ MORE: Haftar Army Launches New Strikes on Tripoli International Airport — Reports
The source further said that Haftar's army had sent reinforcement to the west of the country in order to support its units during the operation in Tripoli.
"Upon the general command's order to deploy all the battalions and brigades to the west of Libya, the 102nd infantry battalion is currently heading to the west of the country in order to take part in Tripoli liberation," the source said.
The source specified that the 102nd infantry battalion had lots of light and heavy weaponry.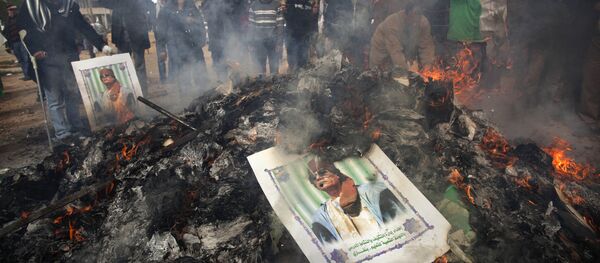 The statements come after earlier in the day Libyan National Army (LNA) spokesman Ahmed Al-Mismari warned of a possible terrorist attack on the so-called "Oil Crescent" — an oil-rich coastal area spreading from Tobruk to Es Sider in eastern Libya. Prior to that, he claimed that Government of National Accord (GNA) head Fayez al-Sarraj had an agreement with terrorists, alleging that there could be "alliances between the government and terrorist organisations".
Last week, the LNA troops of Field Marshal Khalifa Haftar marched on the capital Tripoli in a bid to wrestle it from alleged "terrorists". Forces loyal to the Tripoli-based and UN-supported Government of National Accord (GNA) announced, for their part, the launch of a counteroffensive operation, called Volcano of Rage.