The Ekhbariya TV said early on Wednesday, cited by Reuters, that the Saudi-led coalition struck Houthi targets in Sanna. However, the broadcaster gave no further details. There were no immediate reports of casualties or damage.
On Sunday, the Saudi-led coalition launched airstrikes in the Yemeni capital and hit a warehouse near a school, killing at least 13 children and injuring hundreds of others.
READ MORE: US Lawmakers Urge Trump Not to Veto Yemen War Resolution — Letter
Yemen has been engulfed in a violent conflict between the government, headed by President Abd Rabbuh Mansur Hadi, and the Shiite Houthi movement, also known as Ansar Allah, backed by army units loyal to former President Ali Abdullah Saleh, for several years.
The Yemeni civil war has claimed over 7,000 lives, while over 20 million people in Yemen currently in need of humanitarian assistance, according to UN estimates.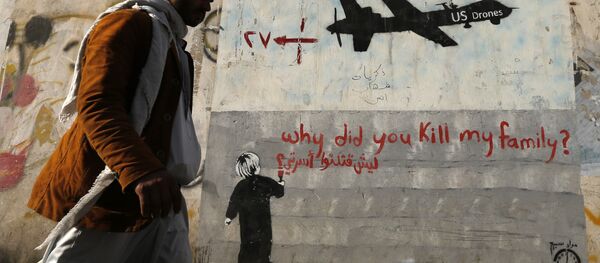 Last December, the warring parties attended long-awaited UN-brokered peace talks in Sweden. As a result of the meeting, the rebels and the government agreed on a ceasefire in the Yemeni port city of Al Hudaydah, an exchange of prisoners and the establishment of humanitarian corridors.
On 14 March, the US Senate passed a joint resolution to end US support for the Saudi-led coalition in the Yemen conflict. The resolution now heads to US President Donald Trump, who is reportedly expected to veto it.
READ MORE: UK More Likely to Stop Arms Sales For Yemen War Than US — Ex-Pentagon Official