"The train arrives at Hasan station in the morning, then heads to Ussuriysk, from there — to Vladivostok. The train traffic in the region coincides with a timetable today. The timetable can be adjusted while the armored train will be moving on Hasan — Ussuriysk railway line, and then on Ussuriysk — Vladivostok section of the Trans-Siberian Railway. And the same way back," the source said.    
Earlier in the day Pyongyang's Korean Central News Agency (KCNA) reported that Kim Jong Un would visit Russia for a meeting with Russian President Vladimir Putin, adding that this would happen "soon."    
READ MORE: US Spy Plane Reportedly Scrambled Over Seoul After North Korea's New Weapon Test
On 23 April two aircraft from North Korea landed in Vladivostok airport. South Korean media reported that Kim's security service was allegedly on board the planes and it arrived in Russia to prepare for a meeting between Kim and Russian President Vladimir Putin.    
On Monday, Kremlin spokesman Dmitry Peskov said the two leaders would meet at the end of April.    
The meeting is expected to take place at Far Eastern Federal University in Vladivostok, according to media reports. The location has reportedly been chosen by North Korea due to security concerns.    
READ MORE: DPRK Confirms Kim Jong Un to Visit Russia for Summit With Putin — Report    
Earlier North Korean leader has expressed his readiness to cooperate with the Russian President in order to reach peach on the Korean Peninsula and to develop bilateral relations.    
Russian Interior Minister Vladimir Kolokoltsev said earlier in April at a meeting with North Korean People's Security Minister Choe Pu Il that Russia intends to promote cooperation with North Korea in various areas not affected by international sanctions.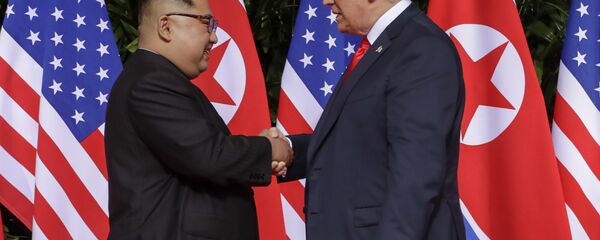 The situation on the Korean Peninsula, which since 1953 has long divided the two countries with differing political systems, improved last year with Kim and South Korean President Moon Jae-in having held several meetings.
Kim also held two summits with US President Donald Trump, with the parties reaching a non-binding verbal agreement in June 2018 stipulating that Pyongyang would make efforts to promote complete denuclearization of the peninsula in exchange for a freeze of US-South Korean military drills and the potential removal of US sanctions.
The second Summit, however, ended abruptly on 28 February without any agreement.