Sri Lanka's Defence Minister Ruwan Wijewardene, addressing the island nation's parliament, said that the attack was carried out in response to the Christchurch mosque attack in New Zealand, which targeted Muslims.
READ MORE: Sri Lanka's Private Catholic Schools to Be Closed Until 29 April — Reports
"Investigations reveal that this attack was carried out in response to the Christchurch Mosque Attack in New Zealand on Muslims. There was a security lapse leading to this devastation in Sri Lanka," he said.
He added that two domestic Islamist organisations are responsible for the attacks.
"This National Tawheed Jamath group, which carried out the attacks, had close links with JMI, it has now been revealed," Wijewardene said.
In turn, the nation's former president, opposition leader Mahinda Rajapakshe said that a government that cannot ensure the safety of its citizens is of no use.
"When I handed over the government, it was free of terrorism. No such attack would have happened on our watch," he stressed.
The President and Prime Minister cannot be divided on this issue. — Former President and Opposition Leader Mahinda Rajapaksa speaking in Parliament

— RepublicNext (@RepublicNext) April 23, 2019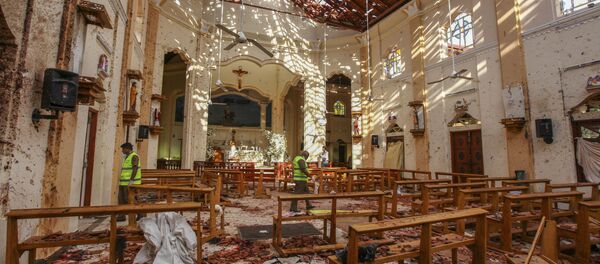 In turn, New Zealand Prime Minister Jacinda Ardern's office said that has "not yet seen" any intelligence reports linking Sri Lanka attacks and Christchurch mosque massacre.
"We understand the Sri Lankan investigation into the attack is in its early stages," the spokesperson said. "New Zealand has not yet seen any intelligence upon which such an assessment might be based."
​Multiple explosions took place in Sri Lanka on Easter Sunday, hitting several churches with Catholic worshippers as well as hotels in Colombo and other cities.
Colombo has launched a massive security operation in the wake of the tragedy. As of Monday, at least 29 people were detained in connection with the attacks.