At an event hosted by the Atlantic Council in Washington on Thursday, Elliott Abrams, President Trump's special envoy on Venezuela policy, attempted to outline conditions for a "post-Maduro" Venezuela. 
Abrams called on members of the pro-Maduro United Socialist Party to join the opposition and call for elections, and stressed that the military in a post-Maduro Venezuela would need to "be well paid" and left out of politics. Repeating the position officials in Washington have been touting since January, when opposition leader Juan Guaido proclaimed himself the country's interim president, Abrams stressed that "the Maduro regime must come to an end for Venezuela to recover democracy and prosperity".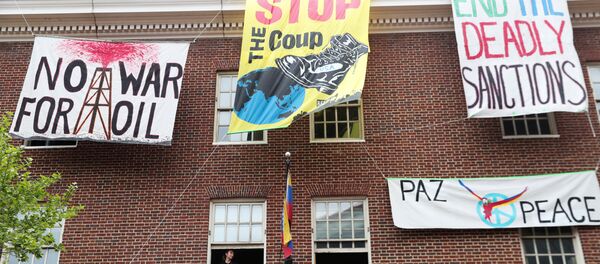 Ariel Gold, Code Pink's national co-director, managed to make it into the room where Abrams was speaking. In the middle of his speech, she stood up with a sign reading "No Coup in Venezuela".
"How dare you impose economic sanctions that harm the people of Venezuela?" Gold shouted. "How dare you in the name of the American people overthrow the government of another people? How dare you undermine democracy? Guiado was not elected by anyone. Six million people elected Maduro. The UN recognises Maduro as the elected president of Venezuela".
Gold was booed by the audience as Abrams stood idly by, with security pushing her out of the room past the stage where he was speaking, with the activist yelling "Elliott Abrams is a war criminal" just as she passed the stage.
The activist's protest received widespread praise on Twitter, with users praising Gold's "bravery" and suggesting that similar protests were needed to unravel the false "humanitarian" motives expressed by officials including not only Abrams, but also Trump National Security Advisor John Bolton, Secretary of State Mike Pompeo, and Senator Marco Rubio.
On the other side, opponents accused Gold of getting "paid" for her protest, claimed that she didn't know what she was talking about, or even suggested that she should have had violence committed against her during the protest.
The long-running political crisis in Venezuela escalated in late January, when opposition leader Juan Guaido proclaimed himself the country's "interim president", just weeks after President Nicolas Maduro's inauguration for a second term. The United States and its allies in Latin America and Europe immediately rushed to recognise Guaido, with Caracas describing the situation as an attempted coup d'état. Russia, China, Cuba, Serbia, Syria, Turkey, and dozens of other countries protested the move at the UN, and urged the US and its allies not to meddle in the Latin American country's internal affairs.