Russian Foreign Minister Sergei Lavrov has urged the United States to refrain from returning to the imperious 'Monroe Doctrine' in its relations with Venezuela, and indicated that while the Russian and US positions on the crisis in the Latin American country remain incompatible, dialogue must continue.
"We agreed to maintain contacts, including on Venezuela, but I don't see a way to reconcile our positions — ours, on the one hand, which is based on the UN Charter and the principles and norms of international law, and that of the United States, on the other, in which Washington assigns the acting president of another country," Lavrov said, speaking to reporters in Tashkent, Uzbekistan on Thursday.
"Our positions are incompatible, but we are ready to talk," Lavrov stressed.
According to the foreign minister, during their conversation Wednesday, he told Pompeo that the return of the Monroe Doctrine approach to US foreign policy was a sign of disrespect to the people of Venezuela and Latin America as a whole.
Commenting on the possibility of a US military intervention in Venezuela, Lavrov said that Russia plans to create a bloc of countries to counter such plans. This group is already being formed at the UN, he indicated. "I hope that it will receive serious support from the organisation, because we're talking about a very simple issue — one that's hard to distort: the defence of  the fundamental norms and principles of international law as they are defined in the UN Charter."
Maduro Never Had Plans to 'Flee' Venezuela
Lavrov noted that earlier claims by Secretary of State Pompeo about Maduro's supposed plans to escape the country and Russia's efforts to dissuade him from doing so were simply not true. "If one were to review everything that officials in the US administration say about Venezuela, an endless series of questions would arise. And all of these questions, as a rule, have one and the same answer. Putting it diplomatically: this is not true," Lavrov said.
Asked why Secretary of State Pompeo may have called him in the first place, Lavrov said that as he understood it, "he called so that he could later say publicly that he called me and urged Russia not to interfere. Well, he did so." At the same time, Lavrov indicated that Russia does not interfere in Venezuela's internal affairs, calling Pompeo's allegations to that effect "rather surreal."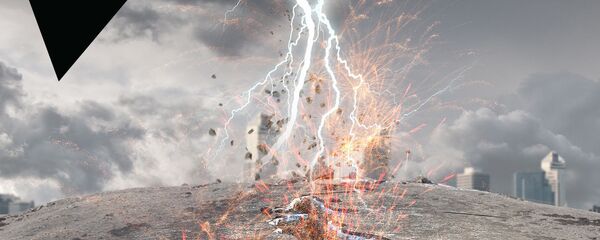 "I told him that based on our principled position, we never interfere in the affairs of others, and urge others to do the same," Lavrov said.
Lavrov and Pompeo spoke by telephone on Wednesday, a day after Venezuelan opposition leader Juan Guaido announced the beginning of the "final phase" in the opposition's bid to seize power in the Latin American country. Before the talks, Pompeo told US media that the US could still US military force against the country "if that's what's required."
Guaido proclaimed himself Venezuela's interim president on January 23, two weeks after Maduro's inauguration for a second terms following elections in May 2018. The opposition leader was immediately recognised by the US and its Latin American and European allies, as well as Canada, while Russia, China, Cuba, Nicaragua, Bolivia and other countries around the world voiced their support for the elected government, or urged non-interference in Venezuela's internal affairs.