UK prime minister Theresa May's government have not yet made any major offers on Brexit to the Labour party, opposition and Labour leader Jeremy Corbyn said at a speech at University of Kent's Medway campus on Thursday morning.
"So far in those talks there's been no big offer and the red lines are still in place," Mr. Corbyn said. "Its actually quite difficult negotiating with a disintegrating government, with cabinet ministers jockeying for succession rather than working for an agreement."
"It is in the country's interest to try to get this sorted one way or the other but we can never accept the government's bad deal or a disastrous no deal," he added. "So if we can't get a sensible deal along the lines of our alternative plan or a general election, Labour backs the option of a public vote on it."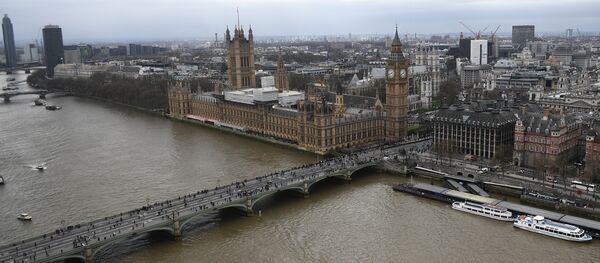 "No one expected us to be holding these European elections but the government's complete failure on Brexit means they are going ahead against a backdrop of division and frustration," Mr. Corbyn said during his speech. "A vote for Labour is a vote to bring our divided country back together."​
"Three years of botched negotiations between the Government and the European Union have left everyone frustrated," Mr. Corbyn added.
Speaking to his audience, the Labour leader said that the party's alternative plan for Brexit would "protects jobs, living standards and communities" would help "end the chaos" caused by Tory leadership and help the country to focus on other "big issues" facing the UK.
READ MORE: PM May Says UK Can Deliver Liverpool-Style Feat Against 'European Opposition'
Mr. Corbyn stated that his EU election platform was a "real and credible plan" that would allow the next Labour government to revitalise the UK's manufacturing industries and "restore pride and prosperity" to parts of the country affected by austerity that had been "neglected for too long".
He also said in a further press release that Labour could "never accept the government's bad deal or disastrous no deal" and that should his party fail to get a "sensible" deal along the lines of its alternative plan, as well as a general election, Labour will back the "option of a public vote."
Euronews correspondent Vince McAviney called Labour's EU election message a "smorgasbord" of all possible options. BBC political editor Laura Kuenssberg highlighted Labour's pledge to back a second referendum in a tweet.
The Labour party's alternative plan seeks a "close and cooperative relationship" with the EU, which includes a "comprehensive" customs union with the UK, a "close" single market alignment, rights and guarantees of those in the EU, as well as protection of the Good Friday peace agreement in Northern Ireland, according to the EU election
manifesto
. Labour has stated that it believes its alternative plan could "bring our country back together and deliver on the result of the referendum", but accuses the May administration of refusing to listen and compromise, adding that Mrs. May and her cabinet have spent over the last three years "arguing among themselves" rather than negotiating a "good deal for the people of Britain.