The African National Congress (ANC), which has been the ruling party in post-apartheid South Africa since 1994, has won the general election with 57.51% of votes, according to the website of the Electoral Commission.
Later in the day, the Electoral Commission stated that the African National Congress Party has won a majority in the parliamentary election. The party, however, experienced a drop in popular support, having seen a decline of 4.65 percentage points from the 62.15% it obtained in the previous general elections in 2014.
READ MORE: South Africa's Economy Faces Murky Outlook Ahead of General Elections
Democratic Alliance (DA) opposition party has also seen a drop in support, gaining 20.76% percent of votes. Left-wing Economic Freedom Fighters (EEF) party came third in the election, enjoying the most growth overall.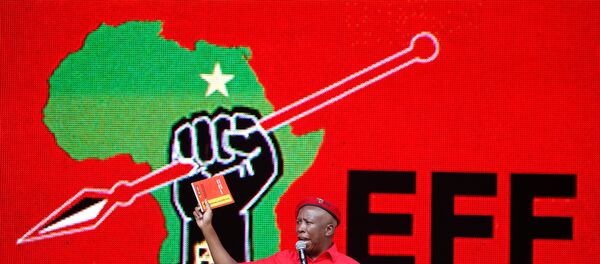 The ANC victory comes after President Cyril Ramaphosa insisted that even though 25 years have passed since the abolishment of apartheid, South Africa's black population is not entirely free. In addition, white citizens also voiced their indignation with the government's policies which have forced them out of their homeland.
Last year, South Africa announced plans to redistribute farmland, largely owned by white farmers, among black citizens, who comprise three quarters of the state's overall population.
Prior to Cyril Ramaphosa taking over as South Africa's president, the position was held by Jacob Zuma who was forced to officially resign in February 2018 due to pressure from the African National Congress Party.
Corruption and South African Politics 
Shortly after the reports about the ANC victory emerged, Patrick Bond, professor of political economy at the University of the Witwatersr and Wits School of Governance, told Sputnik that President Cyril Ramaphosa managed to achieve his target as he "desperately sought ruling-party unity." However, despite the party's victory, the president was still challenged politically by corruption, according to the professor.
"But politically, the central dilemma ahead is whether Ramaphosa's delay tactics in addressing the huge contradictions within the ANC this past year, have allowed the rump of the pro-Zuma faction to become too strong. That faction opposes the cleansing of corrupt elements," he stated.
He went on to say that "in the ruling party's top-six leadership, at least four face serious allegations of graft", adding that Ramaphosa himself was "implicated in illicit financial flows from South Africa."
Finally, Bond questioned "whether anyone will ever be prosecuted for looting the state, in collaboration with corrupt corporations especially from the US, Britain, Germany, China and India."