Iranian parliamentary spokesman Behrouz Nemati has blamed the "sabotage" against four vessels off the United Arab Emirates' (UAE) coast on Sunday on Israel, according to IRNA.
"The events that took place in the Emirates were Israeli mischief", Nemati said, without going into details on what role Israel could have played in the incident.
Iran's Foreign Minister Mohammad Javad Zarif, in turn, said that he had foreseen this sort of "suspicious activities", which he stressed were "aimed at escalating tension in the region".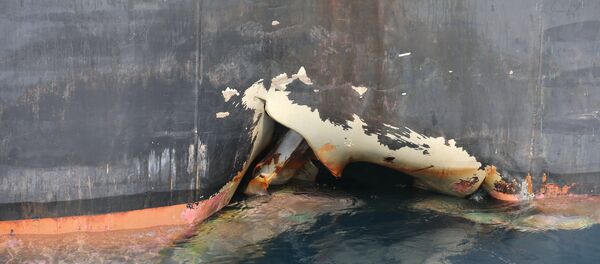 The comments come shortly after several unnamed US officials told AP that "Iranian or Iranian-backed proxies" are alleged to be behind the attack.
Tehran has denied any involvement and urged for an investigation into the matter, calling the incident "worrisome and dreadful" and cautioning against any "conspiracy orchestrated by ill-wishers".
In a parallel development, US Ambassador to Saudi Arabia John Abizaid said that Washington should take what he described as "reasonable responses short of war" once it determined who is behind the attacks on oil tankers.
"We need to do a thorough investigation to understand what happened, why it happened, and then come up with reasonable responses short of war. It's not in (Iran's) interest, it's not in our interest, it's not in Saudi Arabia's interest to have a conflict", Abizaid told reporters in Riyadh.
The remarks follow news of four commercial ships being targeted in what the UAE Foreign Ministry described as "acts of sabotage" near Fujairah, one of the seven emirates, without revealing the nature of the attack.
READ MORE: Iran Warns Against 'Conspiracy by Ill-Wishers' Over 'Sabotage' at UAE Port
Saudi Arabia's energy minister said on Monday that two of its oil tankers were among those targeted; the attack didn't cause an oil spill or any casualties, but is said to have led to significant damage to the structures of both ships. The two other ships are alleged to belong to Norway and the UAE.