Trump became the first foreign leader to be received by the Japanese monarch since he inherited the throne earlier this month after his father, Akihito, stepped down in the first abdication by a Japanese emperor in two centuries.
トランプ大統領は安倍首相と共に皇居での歓迎式典に出席しました。@POTUS & @AbeShinzo at the Imperial Palace for the Welcome Ceremony. #POTUSinJapan 🇺🇸🇯🇵 pic.twitter.com/eCRuWD85Jx

— アメリカ大使館 (@usembassytokyo) 27 мая 2019 г.
"It's over 200 years since something like this has happened. So it's a great honour to be representing the United States", Trump said at a welcoming dinner with Japanese Prime Minister Shinzo Abe earlier on Sunday, according to Reuters.
READ MORE: Trump, Abe Agree to Enhance Deterrence, Capabilities of US-Japan Alliance
In between visits with the monarch, Trump is reportedly slated to hold talks with Abe, with whom he played golf, attended a sumo tournament and dined on Sunday.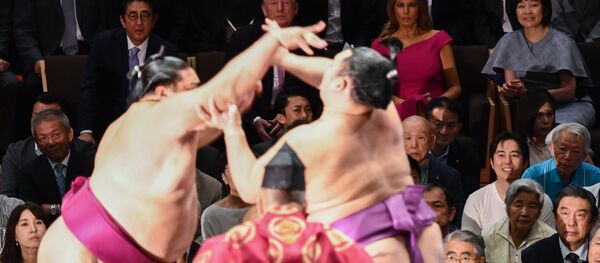 Trump said on Sunday that Washington and Tokyo were progressing very well in their trade talks, noting, however, that many issues would not be resolved until Japan holds elections to its upper chamber in July.
"Great progress being made in our Trade Negotiations with Japan. Agriculture and beef heavily in play. Much will wait until after their July elections [to the Japanese upper house] where I anticipate big numbers!", Trump tweeted.
The trade talks with Japan were triggered by the United States' withdrawal from the Trans-Pacific Partnership trade agreement in 2017. Without the deal, US farmers will not benefit from the same tariff exemptions as those countries that supported the agreement and signed a new trade deal.
READ MORE: Japan's Shinzo Abe Tight-Lipped on Whether He Nominated Trump for Nobel Prize
Trump now reportedly wants to secure a bilateral trade agreement with Tokyo that would allow the United States to boost its agricultural exports to Japan. Tokyo, in turn, wants to prevent Trump from slamming import duties on Japanese cars and auto parts, which are one of the most important export products for Tokyo.