"Iran categorically rejects the US unfounded claim with regard to 13 June oil tanker incidents and condemns it in the strongest possible terms," reads the mission statement. 
Tehran's remarks follow US Central Command's deployment of the US Navy destroyer USS Mason to the Gulf of Oman after US Secretary of State Mike Pompeo labeled Iran responsible for torpedo attacks on the oil tankers Kokuka Courageous and Front Altair.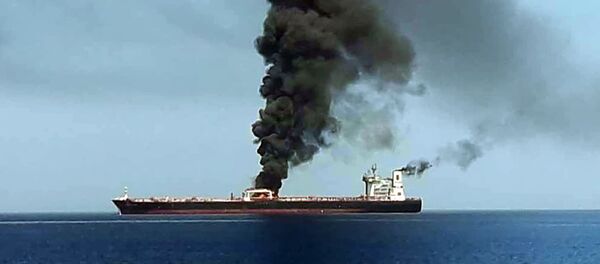 "It is the assessment of the United States government that the Islamic Republic of Iran is responsible for the attacks that occurred in the Gulf of Oman today," Pompeo announced Thursday afternoon. 
Saudi Energy Minister Khalid al-Falih joined the US' condemnation, pledging Saudi Arabia would take necessary measures to secure its own ports. 
"The US and our partners in the region will take all necessary measures to defend ourselves and our interests. Today's attacks are a clear threat to international freedom of navigation and freedom of commerce," spokesman Lieutenant Colonel Earl Brown declared in a CENTCOM press release prior to the USS Mason's deployment. 
Relations between Washington and Tehran have been increasingly strained since the US withdrew from the JCPOA agreement in May 2018. Since then, the US military has increased its presence near Iran, deploying a carrier strike group to the Persian Gulf led by the USS Abraham Lincoln to carry out "simulated strike operations."