The Donetsk People's Republic (DPR) self-proclaimed rebels have refuted MH17 investigators' claims made earlier on Wednesday that they involved in the crash, adding that they didn't possess anti-aircraft equipment in 2014 that could have resulted in the downing of the plane from Amsterdam to Kuala Lumpur. 
This comes after investigators looking into the downing of Malaysia Airlines flight MH17, which crashed not far from the city of Donetsk in 2014, have named 4 suspects, including three Russians (Igor Girkin, Sergei Dubinsky, Oleg Pulatov) and one Ukrainian identified as Leonid Kharchenko.
© Sputnik / Vitaliy Belousov
 / Go to the mediabank
Netherlands announce preliminary investigation results of Malaysia Airlines Flight MH17 crash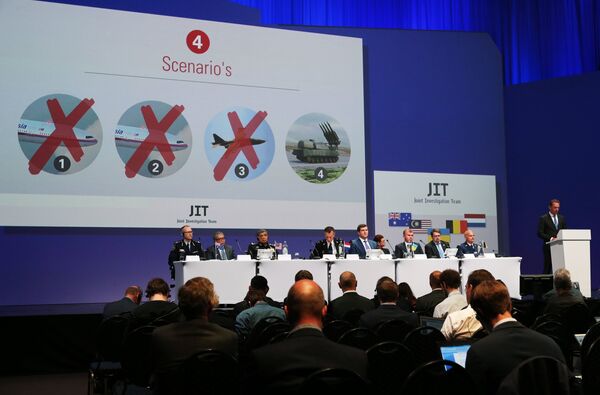 Netherlands announce preliminary investigation results of Malaysia Airlines Flight MH17 crash
© Sputnik / Vitaliy Belousov
/
The Dutch-led Joint Investigation Team (JIT), whose conclusions have been criticised by Russia in the past, will continue its probe into the crash even though it has decided to bring charges against four suspects, a JIT representative said on Wednesday.
"We are still gathering new data for investigation, because we will start prosecuting now, but the investigation will continue," the representative told a press conference.
The four suspects, meanwhile, will be placed on national and international wanted lists. They are set to face murder charges for allegedly delivering the Buk missile that hit MH17. 
The court hearings on the case will begin on 9 March 2020.
JIT representatives also noted that the MH17 crash international investigating team will send requests to Russia and Ukraine on the questioning of the suspects.
'Openly Biased' Investigation
The Boeing, which was en route from Amsterdam to Kuala Lumpur, was downed near the city of Donetsk in eastern Ukraine on 17 July 2014. All 298 people aboard - mostly the citizens of Malaysia and the Netherlands - died. Kiev blamed the self-proclaimed rebels fighting in Donbass, who, for their part, stressed that they had no equipment that would allow them to down a plane at that altitude.
Following the tragedy, a special commission called the Joint Investigative Team was set up by the Netherlands to probe the case, however, Russia was excluded from the investigation process.
The JIT presented what they called the engine of the missile that had allegedly downed the MH17 flight, pointing out that it came from Russia's arsenal. The Russian Defence Ministry shrugged off the accusations, stating that all such missiles had been written off in 2011.
Russia's Foreign Ministry has described the accusations about its involvement in the tragedy as "openly biased" and "one-sided", arguing that it had provided the JIT with evidence proving that it was Ukraine's Buk systems that hit the Boeing. Moscow expressed its frustration that the information had been ignored by the investigators.
Russian President Vladimir Putin commented on the exclusion from the probe of the MH17 downing, saying that Moscow could only recognise the results if it was a full-fledged participant.