The Russian defence ministry is fully aware of preparations by foreign powers to step up their information warfare efforts against all levels of leadership of the country's armed forces, and will not leave these challenges unanswered, MoD spokesman Maj. Gen. Igor Konashenkov has said.
"In the near future, informational pressure directed against the leadership of the Russian Armed Forces at all levels - from the command of formations and units, to the command of the service branches, to the military-political leadership, is expected to increase", Konashenkov said, speaking at a defence-related round table on Wednesday.
"As Russia's role in the world is strengthened, attacks on the Russian Armed Forces and its leadership will only intensify", the spokesman added, saying that informational resources were being created and sponsored under the auspices of NATO, the European Union and other military and political organisations whose goals included discrediting Russia's political and military leadership.
© Sputnik / Alexander Vilf
 / Go to the mediabank
Press briefing by Russian Defense Ministry Spokesperson Konashenkov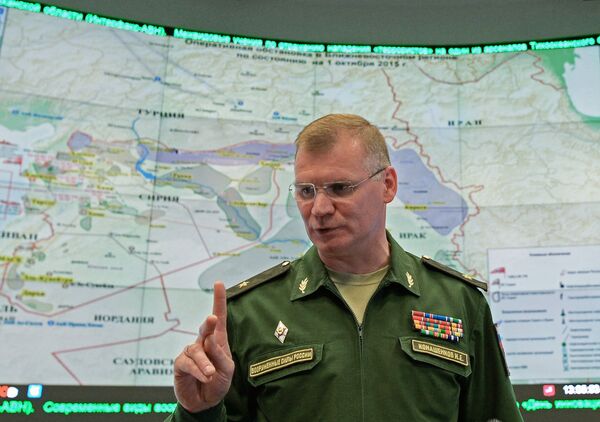 Press briefing by Russian Defense Ministry Spokesperson Konashenkov
© Sputnik / Alexander Vilf
/
Such pressure includes the example of Western media's claims about the Syrian government's alleged use of chemical weapons, with these same media resources refusing to mention the position of the other side, or to publish corrections to stories even after their claims are discredited. The media's extensive use of "investigative journalism collective" Bellingcat in reporting on the MH17 tragedy is another case of the use of "unconfirmed and biased data" from a relatively obscure source and its widespread dissemination in an effort to make accusations against Russia, Konashenkov noted.
According to Konashenkov, the US Agency for Global Media, whose operations include the supervision of media resources including the Voice of America and Radio Free Europe/Radio Liberty, among others, invests tens of millions of dollars each year into projects specifically aimed at trying to discredit Russian policy in the post-Soviet space, with over $14 million of that spent in Russia alone. Similarly, US diplomatic missions in the region provide all possible forms of assistance to local NGOs, as well as "independent" media which in reality promote pro-Western positions, the spokesman said.
The officer emphasised that while the defence ministry remains commited to "fairness and openness" in its work, "those who use dirty methods of information warfare against us should know that their actions will not remain without an adequate response".
25,000 Cyberattacks
At Wednesday's briefing, Konashenkov said that since 2013, the defence ministry had discovered and neutralised over 25,000 cyberattacks against defence-related media resources, including attacks on MoD-affilated websites and against Zvezda, the defence ministry's official television channel.
Nothwithstanding these pressures, the spokesman pointed to the defence ministry's policy of "unprecedented informational openness", which included the accreditation of over 24,000 journalists from Russia and abroad to participate in military-related events in 2018, and its work to organise press tours for over 1,000 foreign correspondents from over 30 countries covering the war in Syria since 2015.
© Photo : Russian Defense Ministry
Russian and foreign media representatives at the Hmeymim airbase (Syria)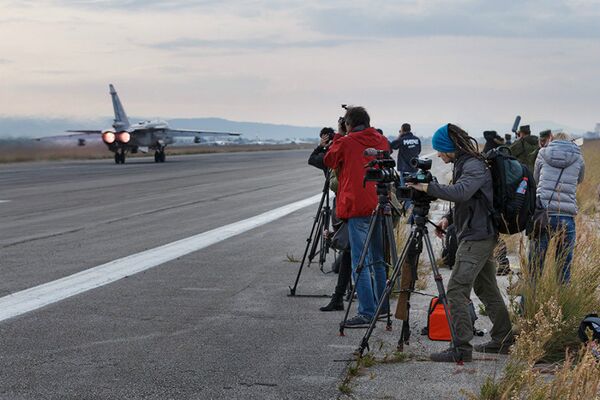 Russian and foreign media representatives at the Hmeymim airbase (Syria)
© Photo : Russian Defense Ministry