US Secretary of State Mike Pompeo has accused Damascus of using chemical weapons in May 2019 in Idlib. At the same time, the official declined to elaborate on how the US is going to respond in light of the accusations.
"The Assad regime is responsible for innumerable atrocities some of which rise to the level of war crimes and crimes against humanity. Today I am announcing that the United States has concluded that the Assad regime used chlorine as a chemical weapon on May 19", he said.
Ahead of the announcement, The Wall Street Journal reported, citing an unnamed US official, that a new intelligence assessment allegedly indicated that government forces had used chlorine agents on the battlefield near the village of Kabana in Syria's Latakia province on 19 May. The assessment, cited by the newspaper, claims that there were four casualties as a result of the attack. Damascus has vehemently denied using chemical weapons in any operations.
The Syrian government officially destroyed its chemical weapons arsenal years ago under the supervision of the Organisation for the Prohibition of Chemical Weapons (OPCW). Damascus has indicated that some of them, however, could have ended up in the hands of militants, who captured vast swathes of land at the beginning of the civil war in Syria.
© AP Photo / Hassan Ammar
Ракетный удар США по Дамаску, Сирия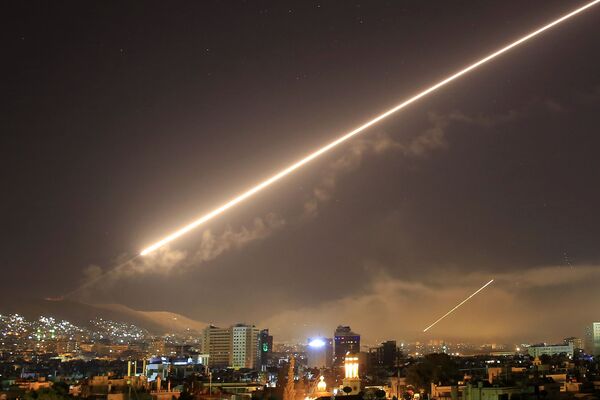 Ракетный удар США по Дамаску, Сирия
© AP Photo / Hassan Ammar
This is not the first time that the US accuses Damascus of using chemical weapons against militants. Last time, in April 2018, these allegations were used as pre-text for a missile strike to be carried out by three Western countries, including the US, on Syrian territory. The attack was conducted prior to OPCW investigators conducting a probe into the incident and was justified based on findings of the White Helmets – a notorious organisation linked to the Jabhat al-Nusra* terrorist group.
The organisation's experts later determined that chemical weapons were used, but couldn't confirm claims that Damascus was behind it. The Syrian government has denied using such weapons, while Russia has slammed the White Helmets' report of the incident as a "false flag attack" staged in order to frame Damascus.
*Jabhat al-Nusra (also known as Jabhat al-Nusra, Jabhat Fatah al-Sham, or al-Qaeda in Syria) is a terrorist organisation banned in Russia