A scuffle over car parking between police and lawyers at a court in New Delhi turned into nationwide protests on Monday.
Videos of lawyers beating police and civilians in different cities have started surfacing on social media. The incident, which triggered protests in different parts of the country, occurred at Tis Hazari Court in Delhi.
CCTV footage allegedly filmed in the court shows lawyers attacking police officers.
​Another video supposedly shows a lawyer trying to attack the person making the video.
​In one video, a policeman is being beaten by a lawyer in a court in Delhi's Saket district.
​In Uttar Pradesh, a group of lawyers can be seen attacking a cop on a bike.
​The situation went from bad to worse when a group of lawyers started attacking commuters.
​Twitter has been flooded with public outrage over the clashes and beatings.
Media reports state that police fired gunshots during the scuffle on Saturday, injuring a lawyer. Infuriated, lawyers allegedly responded by setting a police vehicle on fire.
According to India Today, the protesters allegedly misbehaved with a woman journalist who was covering the strike.
Six separate complaints have been made to the district judge of Tis Hazari court by four advocates, and a Delhi Police constable who was injured in the incident, India Today quoted Delhi Police spokesperson Anil Mittal as saying.
© Sputnik / Shankar
Poster outside Tis Hazari Court in New Delhi reads dogs and police not allowed.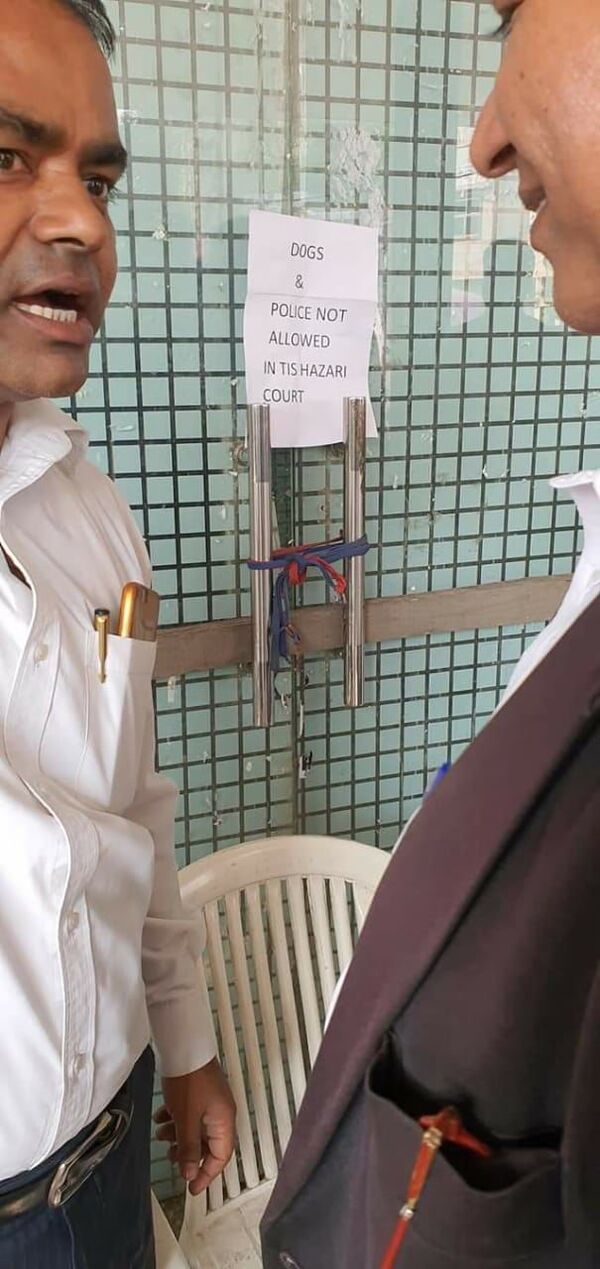 Poster outside Tis Hazari Court in New Delhi reads dogs and police not allowed.
According to media reports both parties claim the trigger for the violence was a dispute over a lawyer parking his car near the court's lock-up area. Police said the lawyer was asked not to park there because it would obstruct the movement of jail vans. It led to a heated argument that turned into a scuffle and soon erupted into violence.