Iran revealed on Saturday that it is expanding uranium enrichment levels to five percent, according to a spokesman for the Atomic Energy Organisation of Iran (AEOI), Behrouz Kamalvandi.
"Based on our needs and what we have been ordered, we are currently producing five percent," the spokesman said.
On Wednesday, Kamalvandi announced the beginning of preparations for the fourth stage of reduction in Iran's commitments to the nuclear deal.
The announcement comes on the heels of a statement by Iranian President Hassan Rouhani on Tuesday that Tehran would start injecting gas into centrifuges at the Fordow facility.
Iran's Uranium Enrichment
The United States moved to withdraw from the Iran nuclear deal in 2018 and re-impose sanctions on Iran's banks and oil industry. The remaining signatories to the deal lambasted the move and vowed to find a way to evade the American sanctions in order to continue doing business with Iran.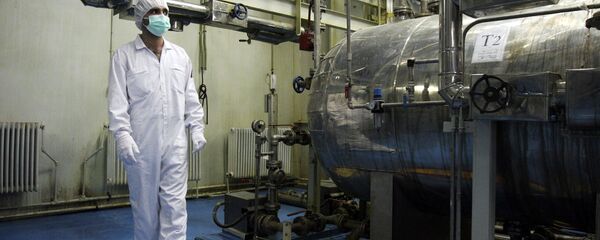 6 November 2019, 20:56 GMT
The EU introduced a special trading mechanism called INSTEX to bypass the US restrictions, but it failed to protect Iran's oil trade.
A year later, Iran announced that it would start to gradually roll back its commitments under the JCPOA unless the remaining signatories come up with a solution to its economic struggles. It has since gone through three stages of such roll-backs.
The JCPOA was singed in 2015 in Vienna by Iran, the EU, China, France, Russia, the UK, Germany and the US.
The deal obliged Iran to eliminate its stockpile of medium-enriched uranium and drastically reduce its stockpile of low-enriched uranium.